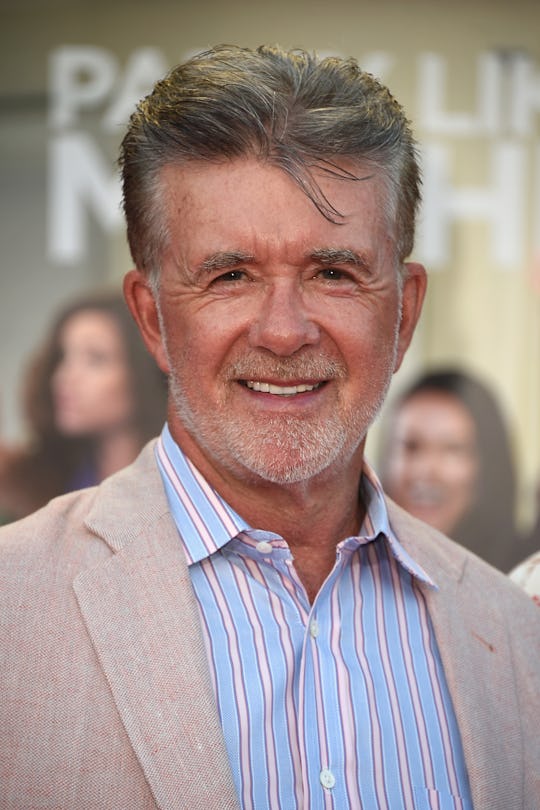 Frazer Harrison/Getty Images Entertainment/Getty Images
'Fuller House' Co-Stars React To Alan Thicke's Death, Showing The Strong Relationship
The world has lost another iconic actor. TMZ broke the news that Canadian actor Alan Thicke died on Dec. 13 after suffering from a heart attack. Though the star was most known for playing Dr. Jason Seaver on the 1980s' sitcom Growing Pains, Thicke remained a household name by appearing on a number of modern shows, including the recently released second season of Fuller House. So it comes as no surprise that the Fuller House co-stars reactions to Alan Thicke's death came pouring in shortly after the news broke.
Fans were surprised by Thicke's guest appearance on Fuller House, a Netflix reboot of the popular '90s sitcom. In the show's second season, which aired Friday, Dec. 9, Thicke played an oh-so-suave and super weird older man that gets set up with D.J. Tanner during a group date night. The cameo was especially exciting (OK, maybe exciting is a slight exaggeration — lets go with interesting) because Candance Cameron Bure, who plays D.J., is the real sister to Kirk Cameron, Thicke's on-screen son in Growing Pains. Though sparks didn't fly between Thick and Cameron Bure's characters, it was still fun to watch them interact. And, based on Thicke's last tweet, it seems the actor enjoyed his time on the show.
The Fuller House appearance was just one in a long list of Thicke's guest starring roles over the past few years. Over the past decade, Thicke appeared on This Is Us, Scream Queens, and How I Met Your Mother, according to IMDB.
But acting wasn't Thicke's only talent. According to Biography.com, Thicke was a music composer and created the theme songs for several popular television series including The Facts of Life and Diff'rent Strokes. (Perhaps he passed on his musical gift to son Robin Thicke?)
To say Thicke left an impact on the television industry would be an understatement. And, as evident by the reactions from his most recent Fuller House co-stars, he won't be forgotten any time soon.
The first to share some sentiments about the late actor was Cameron Bure, who Instagramed a photo of her and Thicke on the set. She captioned the photo by writing:
I'm sad beyond words that Alan Thicke has passed away. I've known you since I was 8 years old and so glad I had the pleasure of working with you again so recently on Fuller House. You were a part of my family and hockey family. You will be greatly missed. ❤️ My heart hurts.
Her cast mates quickly followed with messages of love and support.
Even some of the original Full House cast members remembered the late star. Notably, John Stamos shared a photo of he and Thicke on Instagram with a caption that read, "Damn. Loved this guy. Loved his self deprecating sense of humor. Charming, funny and sweet. Hell of a combo. We'll miss you."
Full House and Fuller House creator Jeff Franklin also shared some sentiments on Instagram. Franklin captions the photo by writing, "A few weeks ago with my great, lovely friend for 35 years, the hilarious Alan Thicke. Will miss you dearly."
Thicke will be missed by his Fuller House co-stars, his family, and television fans all around the world.