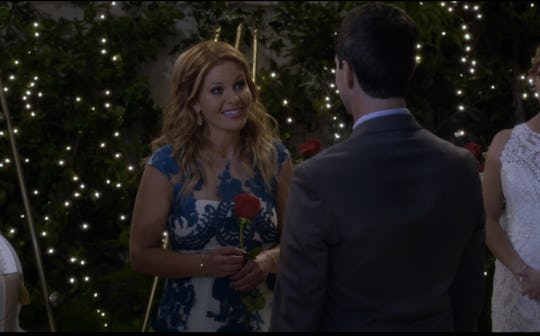 Netflix
'Fuller House' Parodies 'The Bachelorette' & It's Absolutely Perfect
Obviously a remake of Full House was going to be a little meta if it was going to be good. But Fuller House parodies The Bachelorette in the most perfect way. The spin-off is anything but dated. In fact, in a few years most people probably won't get half the pop culture references. But The Bachelorette is sort of classic. The main story throughout the season is D.J. starting to date again after her husband's death. And she has two very good contenders: Matt, her co-worker at the animal clinic, and Steve, her high school sweetheart. Very early on into both flirtationships, it becomes a competition.
At first, it's pretty subtle. Both guys find out they've both kissed her and that she doesn't really know who she likes more. And who can blame her? But by the last two episodes it's full on spoof, and Stephanie and Kimmy are a two-man Bachelor Nation, peeping in on their make out sessions and private conversations. They even go #TeamMatt and #TeamSteve and secretly set them both up to come to the wedding in the finale. Both show up in suits, do their sales pitch, and fight for her attention all night long until they finally have to face the final rose.
Fans of The Bachelor and Bachelorette will totally get the joke. D.J.'s final words to the men mirror the reality show almost verbatim. "I would just like to see where this journey will take us," Matt tells her. Steve calls her by her full name, Donna Joe, proving he's serious. If this really were the Bachelorette, it could be a tough call. But life isn't a reality show, not even on Fuller House. D.J. ends up telling the guys that she chooses herself. "Was that even an option?" Steve asks no one in particular. Could you imagine what Twitter would look like if that ever happened on The Bachelorette? The woman dates and just wants to keep things light all around?
It doesn't matter that D.J. picked herself to Full House fans. Social media is totally Team Steve all the way, no matter how worthy Matt might be. Confession: I am totally Team Matt, if we have to start choosing.