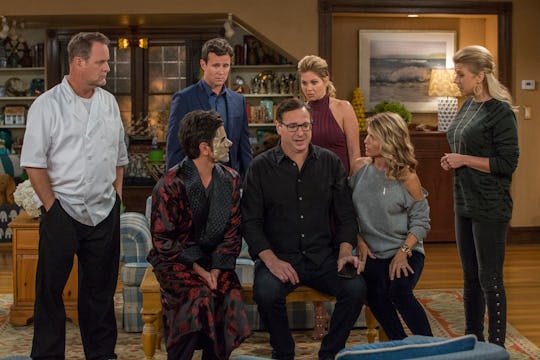 Mike Yarish/Netflix
These 'Fuller House' Season 4 Cast Predictions Will Get You Pumped For More Tanner Fun
In a world of Netflix binges taking over your life on any given weekend, it's hard to really pace yourself when new seasons of your favorite shows are released. So when the following week rolls around and you're suddenly itching for more Fuller House content even though you just flew through the second half of Season 3, it's totally understandable. But there's no time like the present to start considering the Fuller House Season 4 cast predictions to pass at least some of the time before the next season premieres on Netflix.
I think it's safe to say that most of the cast that fans have come to know and love will be returning when Fuller House Season 4 premieres (once it officially gets picked up). But there were certainly a lot of changes toward the end of Season 3 that set things up for an exciting and different fourth installment. Steve and D.J. will, presumably, be starting their relationship back up very soon and all of the older Tanner family members have plans to move back to San Francisco, meaning that their drop-ins will not only be more frequent, but they'll also feel more organic, since the writers had to have been running out of ideas for why they happen to be in town so often.
There hasn't been an official announcement yet regarding the Fuller House Season 4 premiere, but there are plenty of predictions about next season's cast to get you ready, as if you weren't already. So who can you expect to return? For starters...
D.J. (Candace Cameron-Bure)
As the Fuller matriarch, D.J. will likely be working at her veterinary clinic alone, as Matt decided to open up shop elsewhere, and potentially interviewing candidates to take over his partnership role, which could lead to some interesting cast additions.
Stephanie (Jodie Sweetin)
Since Kimmy announced her pregnancy at the end of Season 3, chances are, Stephanie will be preparing for the arrival of her baby. This could mean some very real pre-mom jitters, but that's where some of the realistic charm of Fuller House comes in.
Kimmy (Andrea Barber)
If Kimmy is well into her pregnancy with Jimmy and Stephanie's baby, I can already see an episode or two of over the top and hilarious pregnancy complaints and weird food cravings that only a Gibbler could want and I seriously can't wait.
Steve (Scott Weinger)
The last we saw, Steve was taking a job as the in-house podiatrist for the L.A. Lakers, but he promised that as soon as the basketball season was up, he'd be back to start his relationship with D.J., so it's very likely that that's where the season will pick up for them.
Matt (John Brotherton)
Even though he and D.J. are no longer dating, Matt did mention opening up his own animal clinic right down the street from her, so if he's still around, it's going to make for some unfortunate competition as she tries to gain her footing at the clinic on her own.
Fernando (Juan Pablo Di Pace)
He'll more than likely be waiting on Kimmy hand and foot since she's officially pregnant, but Fernando seemed to really bond with Tommy in the most adorable way during Season 3, so I wouldn't be surprised if he brings up the topic to Kimmy of having another baby of their own at some point soon.
Jimmy (Adam Hagenbuch)
Although his more serious moments are few and far between, Jimmy will probably be the one to help Stephanie prepare for the baby's arrival. But he's also likely going to figure out a new living arrangement, since the whole living in an R.V. thing can't last forever.
The Kids
Jackson was last seen getting close to Gia's daughter Rocki (Landry Bender) and Ramona seems to be her new BFF, so she'll probably be sticking around, along with the main kids who live in the Fuller house. Expect to see more of Ramona (Soni Bringas), Jackson (Michael Campion), Max (Elias Harger), and Tommy (Dashiell and Fox Messitt).
Danny (Bob Saget)
I definitely see Danny making good on his promise to move back home, which could lead to some very tense situations between him and his eldest daughter, who's been the main leader of the house for several years now.
Jesse & Becky (John Stamos & Lori Loughlin)
Since they're also moving back to San Francisco and they have a baby of their own, you can probably expect to see them popping up at the Fuller house for random breakfasts (because that's what people do sometimes?) or to spend time with the kids.
Joey (Dave Coulier)
Apparently Joey and Jesse have plans to revamp and open up The Smash Club again, so their partnership will likely be revived come Season 4, enabling the cast to have a new set to visit every couple of episodes.
There might not be a release date yet for Fuller House Season 4, but with the way things left off at the end of the second part of Season 3, there's plenty to look forward to and keep speculating on until fans get more of the growing TV family.
Check out Romper's new video series, Romper's Doula Diaries:
Watch full episodes of Romper's Doula Diaries on Facebook Watch.