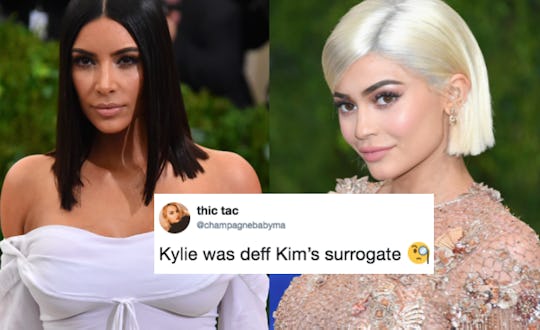 Mike Coppola/Getty Images, Dia Dipasupil/Getty Images
Twitter Is Having Too Much Making Jokes That Kylie Gave Birth To Kim's 3rd Baby
The day has finally come! Kim Kardashian and Kanye West's surrogate gave birth to a "healthy, beautiful baby girl" on Monday, the now mom-of-three wrote in a statement on her website Tuesday. Fans are understandably freaking out over this exciting news and are, of course, taking this opportunity to crack jokes about one of the biggest Kardashian conspiracy theories out there: Kylie Jenner being Kim and Kanye's surrogate. In fact, the funniest tweets about Kylie giving birth to Kim's baby just show how wild of a theory it is. But, that doesn't mean fans can't have a little fun with it.
Let's back up a bit first and debunk this conspiracy theory once and for all. While all the clues out there may make some fans totally think this was the case, there are a lot of reasons why it simply just can't be. Yes, Kylie's age, 20, may be ideal for surrogacy and she is rumored to be pregnant at the moment — oh yes, and there were rumors that went wild on Twitter last Friday that Kylie was in labor — but there are a lot of factors that go into this decision that just don't match up.
For starters, to be a surrogate, it's highly recommend that the woman has given birth before. Having gone through that experience proves that not only the surrogate has a "proof on record of fertility," according to Simple Surrogacy, but also giving birth prior to making such a commitment prepares a surrogate for what's ahead; changes to your body, altering your lifestyle, possible pregnancy complications, and of course, childbirth.
Although Kim and Kanye have yet to reveal any personal details about their surrogate, what has been reported also does not point to Kylie. According to TMZ, Kim and Kanye found their surrogate through an agency, who's reportedly an African-American woman in her 20s and is reportedly married with two young boys of her own.
Nevertheless, Twitter is having a field day with this almost completely implausible theory.
A Lot Of People Just Won't Budge
Some Totally Realize It's Just One Of Those Wild Conspiracy Theories Out There
Others Just *Really* Want To Know, If She's Not Kim's Surrogate, Then Where In The World Is Kylie?
Anyone who keeps up with the Kardashians knows that this truly is just a joke that's kind of fun to follow. But the truth is, Kim has been open about how desperate she was to grow her family and her decision to use a surrogate was not an easy one to make. Throughout her past two pregnancies — with daughter, North, and son, Saint — Kim suffered from dangerous pregnancy complications. With her son, according to People, Kim was diagnosed with placenta accreta, a serious pregnancy complication in which the placenta grows into the wall of the womb and, as such, it can cause severe blood loss after delivery, according to the Mayo Clinic.
"I've come to the conclusion in my mind that I can't carry another one. So now I want to explore surrogacy," Kim told her mom, Kris Jenner, on an episode of the family's reality show, Keeping Up With The Kardashian, as reported by People.
On Tuesday, in Kim's birth announcement, she took a moment to thank her and Kanye's surrogate. "We are incredibly grateful to our surrogate who made our dreams come true with the greatest gift one could give and to our wonderful doctors and nurses for their special care," she wrote on her website. "North and Saint are especially thrilled to welcome their baby sister."
While Kim and Kanye's surrogate will likely remain unnamed for the foreseeable future, this conspiracy theory about Kylie giving birth to their new baby girl appears to be alive and well. And until Kylie addresses the pregnancy rumors about her, it doesn't seem like they'll go away anytime soon.
Check out Romper's new video series, Romper's Doula Diaries:
Watch full episodes of Romper's Doula Diaries on Facebook Watch.