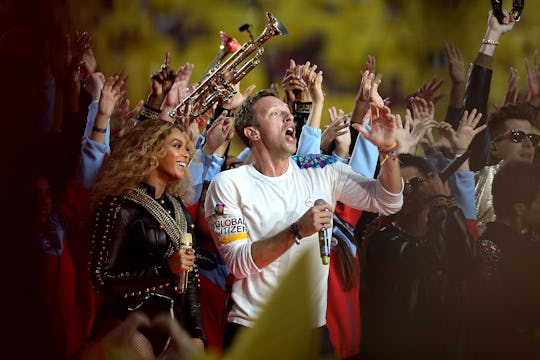 Patrick Smith/Getty Images
Funniest Tweets About The Super Bowl 50 Halftime Show, Because There Are Just So Many Good Jokes
I'll never, for as long as I live, remember where I was when the moment the announcement came that Coldplay would be performing at the Super Bowl 50 halftime show, but I'll forget how I felt when the news came that Beyoncé would arrive to save the show from Coldplay, and clearly, Twitter agrees. Coldplay took to the stage tonight to perform at the Super Bowl 50 halftime show, and Twitter immediately erupted with feelings. The funniest tweets on the Super Bowl 50 halftime show were a reminder that Twitter is always thinking the same thing the rest of us, and that thought is: Where is Beyoncé, and when will she save us?
Coldplay took the stage to start the show off and was soon joined by Bruno Mars. Then Beyoncé joined everyone and all hell broke loose, but in the best way possible. After the show ended Beyoncé announced her Formation World Tour, and so now the Internet is collectively freaking out over how to get tickets for Beyoncé's World Tour.
But back to the tweets. The Super Bowl halftime show was replete with jokes before, during, and after the show, and these were some of the best — and the most hilarious:
The Funny
The Hilarious
I also can't remember what life was like before we had Twitter to offer real-time comedic commentary to literally everything happening on TV. Bless.