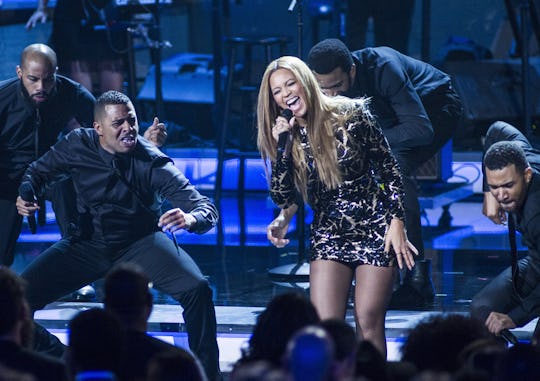 Funniest Twitter Reactions To Beyonce's Formation World Tour Announcement
Members of the Beygency were gifted with a special surprise on Super Bowl Sunday. Following the singer's jaw-dropping half time performance (sorry Coldplay, but you know it was all about Bey), she shared news of a new world tour. Yes, you heard that right! The news, of course, elicited a series of funny twitter reactions to Beyoncé's Formation tour announcement.
This is not the only surprise Beyoncé fans were given this week. The 34-year-old dropped a new single, "Formation," the day before the Super Bowl. Fans thought the surprises would continue into the half time show. More specifically, would Beyoncé announce a second pregnancy, à la her 2011 VMA performance? And though fans are probably bummed that Blue won't be getting a sibling soon (at least, not that they know of), I think it's safe to say that they're much happier with the news of a world tour. I mean, you just have to take a look at Twitter to see how excited fans are to see Queen Bey take the stage.
Will Beyoncé continue the surprises by dropping a new album this week? It's definitely possible, though the singer isn't one to repeat the same trick twice. What we can say is that people are beyond excited to see her in concert this summer. And that they're willing to sell their souls to get tickets. Don't believe me? Just look at this twitter reactions to the Formation World Tour.
Beyoncé Over Education
No Money, No Problem
The Gift Of Beyonce
Take My Money Beyoncé
I guess the Beygency can't count this as a tax write-off, huh?