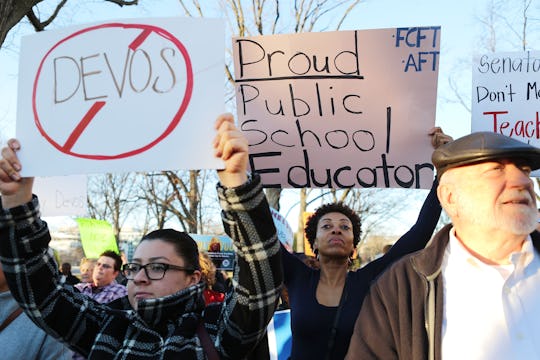 Mario Tama/Getty Images News/Getty Images
Funny Tweets About Betsy DeVos' Confirmation
On Tuesday, Vice President Mike Pence cast the final, tie-breaking vote in the Senate that confirmed Betsy DeVos as the new head of the Department of Education. According to the Los Angeles Times, the GOP mega-donor and fundraiser is the first education secretary to have never attended a public school or sent her children to one, and at her recent confirmation hearing, she came under fire for her seeming lack of familiarity with basic concepts in education. Now that she's snagged the position, however, funny tweets about Betsy DeVos are making many laugh until they cry — or just straight-up cry.
Those concerned about children's education in the United States have pointed to several instances that made them question DeVos' readiness to head up the department. During her confirmation hearing, DeVos was unable to tell the difference between two important education terms ("proficiency" and "growth," two different ways to measure students' learning), was unfamiliar with the Individuals with Disabilities Education Act, and said states should be allowed to decide individually whether to allow guns into their schools. As an example of why schools might need guns, DeVos explained that one Wyoming school might need them to fend off grizzly bears — an explanation that has since been turned into the butt of several jokes and memes. DeVos' appointment has also raised a few eyebrows thanks to the enormous campaign donations the DeVos family issued to many of the senators that later voted for her appointment.
Now that she's been ushered into the role, though, people on Twitter have decided to approach her appointment with as much humor as possible — and the ensuing jokes may just make you laugh. Or cry. Or laugh until you cry.
On The Future Of Education
On Her Experience
On The Very Close Vote That Confirmed Her Appointment
For those who are laughing through their tears or just straight-up crying, there are ways to petition DeVos as education secretary, and parents can read up on the issues affecting the American education system today and work with education organizations that represent the changes they'd like to see.
DeVos' appointment might be scary to a good portion of educators and parents right now, but there are still ways to help push education in the United States forward. Hopefully people's disappointment with the education secretary's confirmation today will inspire them to learn more about local and federal initiatives and get more involved in their kids' education. And hey, if anyone needs any inspiration, don't worry — Twitter's got plenty of jokes to re-inspire your commitment to improving kids' education in the country.