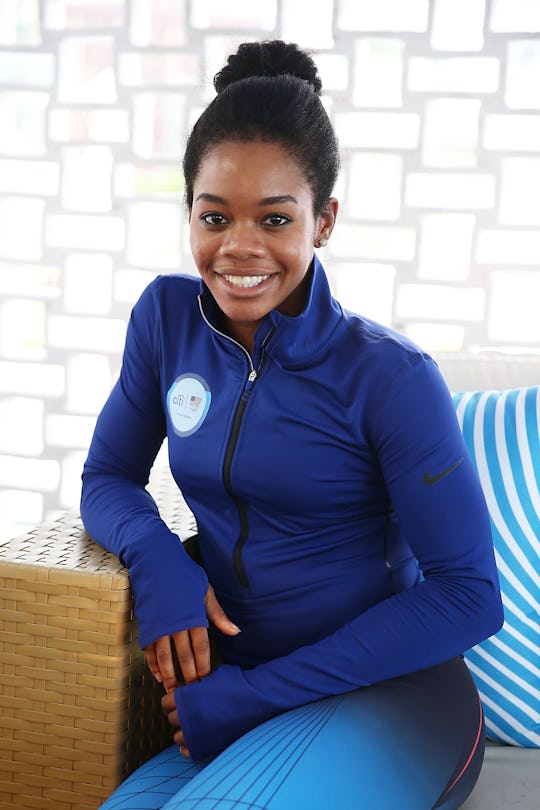 Joe Scarnici/Getty Images Sport/Getty Images
Gabby Douglas Will Be A 'Miss America' Judge, & It Will Be A Very Different Experience
Olympic gymnast Gabby Douglas dealt with some serious criticism during the 2016 Games. Some of it was legitimate, like when a panel of judges evaluated her athletic performances in the arena. Most of it, though, was mean-spirited, undeserved, and came from the ruthless court of public opinion, i.e. a nasty band of social media trolls, which collectively probably doesn't boast even one gold medal (news flash: Douglas earned two in London four years ago and added another team all-around gold in Rio). Now, reveling in her many successes and disregarding her haters, Gabby Douglas will judge the 2017 Miss America pageant. After the stress of the scrutiny directed at her the past two weeks, this gig will be a very different experience for 20-year-old champion.
USA Today reported Monday that Douglas will enliven the pageant's already star-studded judges panel, which also includes entrepreneur Mark Cuban, musician and actress Laura Marano, actress Sara Foster and more, for the final round of the competition September 11. The two-time Olympian will scrutinize each of the 52 contestants — likely with the same poise, grace, and humility that she showed throughout the Games.
"The contestants are a great example of strong women across America and I especially look forward to hearing the platforms that each of them will represent!" Douglas told USA Today in a statement.
By missing out on competing in the individual all-around thanks to a controversial "two per country" rule after she finished third in the semifinals behind teammates Simone Biles and Aly Raisman and subsequently placing seventh out of eight gymnasts with her uneven bars routine, Douglas had a disappointing showing in Rio despite the one gold she did win. And all through this, social media trolls virtually harangued her for perceived indiscretions such as not putting her hand over her heart on the medal podium during the national anthem and not appearing enthusiastic enough over her teammates' successes. They even made fun of her hair.
Despite the unfair criticism (and maybe even with a little help from the well-deserved social media support and praise she received from people pushing back with the #LOVE4GABBYUSA hashtag), Douglas ultimately said she'd had a "fantastic" experience in Rio. In joining the Miss America judges panel, Douglas has the opportunity to offer constructive criticism while at the same time working to build up other women and celebrate their talents instead of tearing them down for sport.
If anyone is up for that responsibility and challenge, it's Douglas. As the Games edged toward their conclusion, The Daily Beast reported that the gymnast is now collaborating with Citibank on the #StandforProgress campaign, an effort to use social media as a positive motivator.
The sentiment is an important one to her, for obvious (and unfortunate) reasons. During an interview with the Beast's Gabrielle Glaser, Douglas reflected on how she is learning to eschew negativity in favor or positive thinking and feedback:
I've been through so much, and it's important for people to know that you're going to have your ups and downs. I want to be a good representative for everybody, and to tell young girls to be strong and to have a strong mind. At the end of the day, you just can't listen to the negativity. Listen to the good thoughts.
This mindset, folks, is just one of the many, many reasons why Gabby Douglas is such a badass — and one who is continually striving to improve herself and boost up others around her at that. I'm certainly looking forward to hearing her impart the wisdom gained from her Olympic and life experiences, both good and bad, at the Miss America pageant next month. The pageant, and the United States, is lucky to have her.