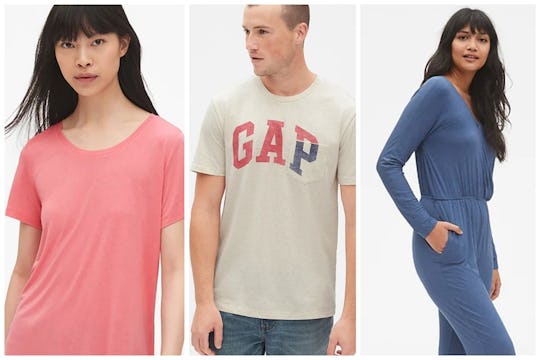 Gap
Gap's Labor Day Sale Has $4 T-Shirts, $10 Skirts, $11 Jumpsuits & OMG, So Much More
While some people enjoy cookouts and chill-outs on Labor Day weekend, others are all about hitting up those holiday sales. And as the best deals at Gap's Labor Day Sale go to show, it's easy to stock up on wardrobe essentials this time of year. So if you'd rather beat the heat shopping in a store or online, Gap has you covered.
Really, the discounts are kind of ridiculous. From August 30 to September 2, 2019, Gap's Labor Day sale will take 40 percent off everything in the store. Yes, even that pair of jeans you've been eyeing forever will be on sale. And to make the deals even more enticing, Gap will offer an extra 50 percent off markdown prices this Labor Day. With year-round staples like t-shirts, tank tops, and polos on deep discount, you can score some serious deals.
Remember, Gap sells clothes for women, men, kids, toddlers, and babies, so you can grab a few basics for everyone in your family, from a few basics for your kid's uniform to a cool t-shirt for your S.O. without totally breaking the bank. Read on to see what the deepest discounts and most exciting deals of Gap's Labor Day sale are for 2019.