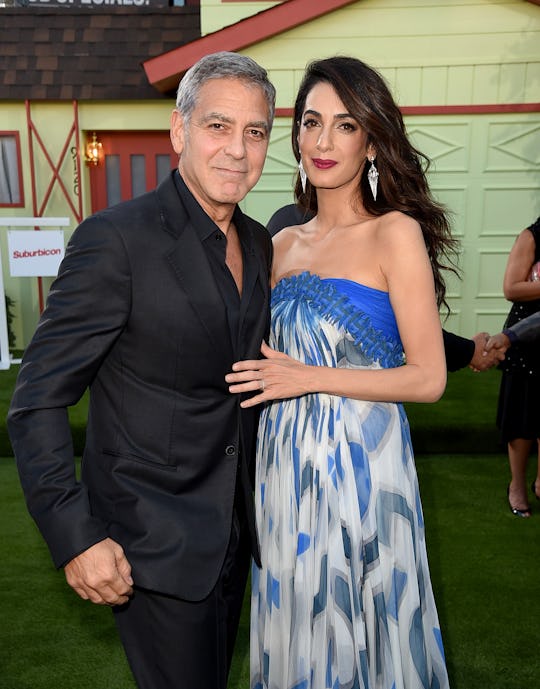 Kevin Winter/Getty Images Entertainment/Getty Images
George Clooney Says He's Teaching The Twins Practical Jokes, & It's The Most Dad Thing Ever
If you know anything about George Clooney, you know that he's a pretty private person. Clooney isn't the type of celebrity to dish about his marriage or kids on the regular, which can be disappointing and even frustrating to fans. Every so often, however, Clooney decides to gift the public with some personal info about his life, and it looks like this past weekend was one of those times. On Sunday, George Clooney shared many new details about his twins, and his fans will love each and every single tidbit.
Ever since Clooney became a dad to twins in June 2016, fans have been itching to know more about the actor's personal life. Although Clooney has shared some details here and there, he has generally held back from divulging too much info about the twins and his wife, Amal Clooney. Considering a lot of celebrity parents opt to keep their kids out of the spotlight (Ashton Kutcher and Mila Kunis are a good example of this), it's not too surprising that Clooney chooses his words carefully when discussing the twins, Ella and Alexander. The good news for fans is Clooney tends to pick the best details to open up about, and each interview he does is often chock full of baby gems.
In an interview with ExtraTV at the Suburbicon premiere on Sunday, Clooney decided to drop a ton of new details about the twins. According to Clooney, Ella inherited Amal's elegance while Alexander loves to laugh. Clooney revealed, according to ExtraTV:
They're born with personalities ... Ella is very elegant and dainty and she has these big beautiful eyes; she looks like Amal ... He's just a thug, he's a fat little boy, he laughs louder than everyone in the room; it's the funniest thing.
Did anyone else just melt? Ella and Alexander's cuteness is too much to handle.
As for what Clooney is teaching Ella and Alexander in their formative years, Clooney admitted to People that he's raising the twins to be grade A practical jokers. This is especially good news for baby Alexander — if you love to laugh, having a dad with a penchant for practical jokes is an amazing gift.
Clooney said, according to People:
I'm already trying to teach my children dirty tricks.
If you're trying to imagine what these "dirty tricks" could be, it turns out Ella and Alexander are being trained in the fine art of dad jokes. Clooney explained his most beloved practical joke, according to People:
... Like the peanut butter on the tennis shoe move. You walk into a party with peanut butter on your tennis shoe, and you look around and ask anybody if it smells like crap, and then you reach down and you actually taste the peanut butter off of your shoe with your finger. That will really throw people up. That's a rough one.
Yep, that sounds like a practical joke any dad would guffaw over.
Considering Clooney is all about trickery, one would think he would be amped for the twins' second Halloween — the best part of the holiday is dressing up your tiny human as a burrito or a cute animal, right? Well, it turns out Clooney could care less about finding the perfect costumes for Ella and Alexander, which is somewhat of a disappointment. Clooney reasoned, according to ET Online:
All you're really doing that for is yourself. Right? Because the babies couldn't really give a damn at that point.
Although Clooney does have a point here, he admitted to ET Online that Amal will ultimately decide if the kids will wear costumes:
But if Amal wants the kids in a costume, she'll be getting them in costumes. Listen, I'll get home and my wife will say, 'Oh we're dressing them up.'
Well, at least Clooney knows what's up.
As time goes on, it will be interesting to see how much Clooney and Amal will talk about the twins. Considering teenagers don't particularly enjoy it when their parents dish about them to complete strangers, it's totally possible Clooney and Amal will become more tight-lipped about the twins as they get older. Translation: savor these cute and precious details about the twins while you still can.
Watch Romper's new video series, Romper's Doula Diaries:
Check out the entire Romper's Doula Diaries series and other videos on Facebook and the Bustle app across Apple TV, Roku, and Amazon Fire TV.