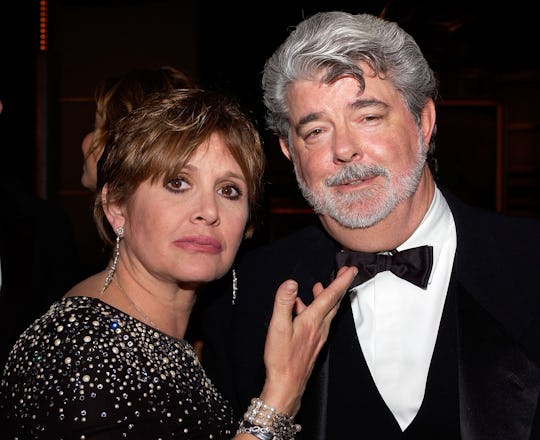 Amanda Edwards/Getty Images Entertainment/Getty Images
George Lucas Reacts To Carrie Fisher's Death
Carrie Fisher was just 19 when her gig as Princess Leia in the original Star Wars trilogy catapulted her to household name status in 1977. It was a role that would define her career and that she would revisit in various forms throughout her life. In fact, when she died at 60 Tuesday morning, she had just released a memoir chronicling her experiences starring in the films. And, a new Star Wars installment in which she reprises the role is due to hit theaters in December 2017. Her life has been so intertwined with that of her character that she's joked that the Star Wars creator "stole" her identity — but George Lucas' reaction to Carrie Fisher's death shows the immense respect he had for her, and why she's an irreplaceable actress and writer.
In a statement to E! News shortly after the world learned that Fisher had died of a massive heart attack, Lucas celebrated the woman who elevated Princess Leia to icon level:
Carrie and I have been friends most of our adult lives. She was extremely smart; a talented actress, writer and comedienne with a very colorful personality that everyone loved. In Star Wars she was our great and powerful princess—feisty, wise and full of hope in a role that was more difficult than most people might think. My heart and prayers are with Billie, Debbie and all Carrie's family, friends and fans. She will be missed by all.
The heartfelt sentiment exemplifies the close relationship the two shared over the course of filming the blockbuster franchise together, and is a testament to Fisher's brilliance in front of the camera, as well as behind the scenes as a celebrated script doctor who even helped Lucas to spice up the script for Return of the Jedi, as she told The Daily Beast's Marlow Stern last December.
Fisher and Lucas undoubtedly had plenty of time to get to know each other well over the years, and she became a trusted sounding board for the Star Wars creator. She wouldn't reveal during her interview with Stern which parts of the Star Wars prequels she tweaked at Lucas' request, but said she did have a hand in revising and improving them, according to The Daily Beast:
George had me come and talk to him. I would help George doing certain things. He had me write a short story thing for Sir Alec, so I helped him write that, but I wasn't really writing until I was in my early thirties. George would come and say, 'Look at this,' so I would come and help.
Still, Fisher was aware that, on some level, Lucas was indebted to her after she signed away her likeness to him way back when she first took on the role. In a op-ed for Newsweek in 2011, she wrote that, because there was no merchandise associated with the films at the time she signed on, she doesn't get any compensation for the Princess Leia products — from socks to a brand of marijuana — that are sold today. "I've teased George Lucas about this over the years, but he's never been apologetic," she wrote.
When she went into cardiac arrest on that flight from London to Los Angeles Dec. 23, Fisher had been traveling to promote her latest book, The Princess Diarist, which is a reflection on her experiences playing Princess Leia, according to Vanity Fair. What's more, she was cast in her original role — this time with the title of "General" — in Star Wars Episode VIII, which is slated for a December 2017 release. Fans — and George Lucas — will have the chance to be enthralled by her anew one last time.