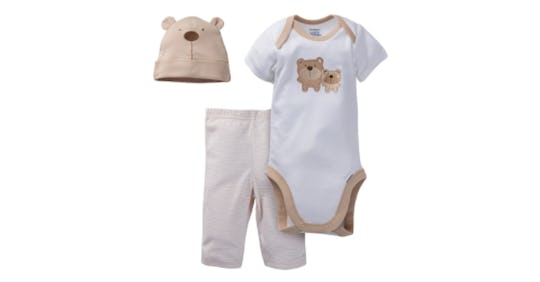 Gerber
OMG Gerber's 4th Of July Sale Has Entire 3-Piece Outfits For $7, So Run To Your Computer
Some people love the 4th of July because of the fireworks. Others are into the holiday because it's a great excuse to host a barbecue. Still others start counting down to the big day weeks in advance for a different reason entirely: Independence Day sales! From clothes to appliances to cars to toys, nearly everything you could ever want will be discounted over the next week or so. If you're looking for baby stuff, for example, you're definitely in luck: Gerber's July 4th sale is stocked with serious deals this year, so now's the time to stock up. What do you need to know before you start shopping?
Not everything on the Gerber Childrenswear site will be marked down, but literally hundreds of items will be; namely, all playwear will be 35 percent off from July 2 to July 4 (excluding items that are already on sale). That gives you a tremendous amount of options to choose from in both infant and toddler sizes, whether you're looking for onesies or dresses or sweatpants or t-shirts. And that's an immensely good thing when it comes to anything that classifies as "playwear," because playwear is the stuff your little one wears each and every day (and it's certainly not unheard of for her to go through several outfits in a single one of those days).
The more baby and toddler basics you have on hand, the less frequently you have to do laundry... and that's a very good thing. Plus, when you think about how quickly kids grow out of their clothes, it just doesn't make sense to spend big bucks on their wardrobe (even though some pricey pieces can be totally irresistible). Sales like this one are the perfect opportunity to save yourself some cash, and (in the long run) some sanity, too.