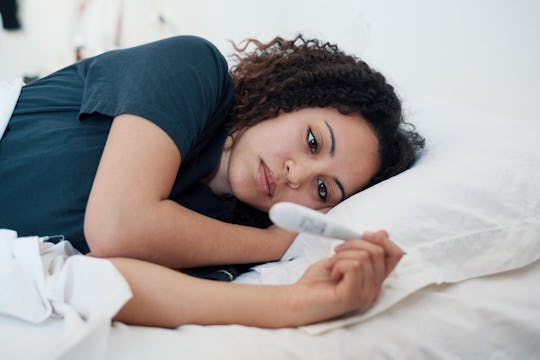 Paolese/Fotolia
5 Habits That Can Increase Your Chances Of Getting Pregnant With Irregular Periods
For me at least, trying to conceive (TTC) was one of the most challenging and stressful periods of my life. It took about two years for me — and that seemed like forever. For others, it could unfortunately be even longer than that. It's so frustrating because you want something so bad, you feel like you're doing everything you can, and it's just not working. Especially if you have irregular periods. I'm sure you feel like you've tried everything, but just in case, I asked an expert for some habits that increase chances of getting pregnant with irregular periods.
If you are struggling with irregular periods or not ovulating regularly — or at all — you're not alone, says Dr. Jamil Abdur-Rahman, an OB-GYN and medical travel blogger for TwinDoctorsTV. "It is estimated that anywhere from 18 to 25 percent of women currently suffer from some degree of ovulatory dysfunction," he says in an email interview with Romper. So what do you do?
It's important to understand your fertile period and how all this stuff works like the back of your hand. "Most women trying to get pregnant are told that they should be at their most fertile between days 10 through 17 of their cycle. This however really only holds for women that have fairly regular 28 to 31-day menstrual cycles. Those with longer or shorter cycles will find that their fertility windows either start before the tenth day of the cycle or extend beyond that seventeenth day of their cycle," Abdur-Rahman explains. But this means nothing to us ladies who don't have regular cycles. So we have to get in the daily habit of tracking our ovulation by focusing on our body's cues, and getting into the habit of trying to improve our health.