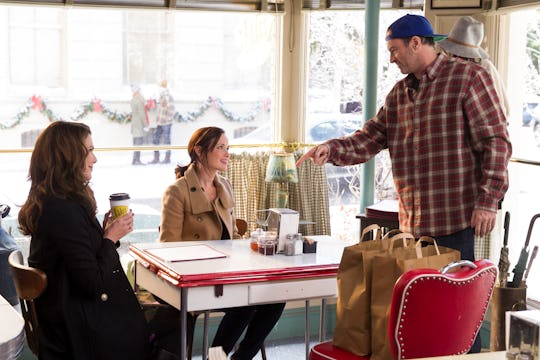 Saeed Adyani/Netflix
'Gilmore Girls' Revival Spoilers Reveal Where All Our Favorite Characters Ended Up
(Final warning: This post contains major spoilers from Gilmore Girls: A Year in the Life.) Let's be honest: This year, Black Friday was less about shopping for great deals and more about binge-watching all four episodes of Gilmore Girls: A Day in the Life the second they became available on Netflix. Waiting more than nine years after the original series took a bow in May 2007 was long enough to see what happened to Rory and Lorelai — the fast-talking, coffee-loving girls for whom the show is named — along with Emily, Luke, Kirk, and the rest of the Stars Hollow gang. Whether you want to revisit the revival's biggest moments or save yourself the trouble of watching each mini-movie in its entirety, below are the seven most significant Gilmore Girls revival spoilers, including the infamous final four words.
First, a little background: When last we saw our titular girls, Rory had just accepted a job covering Barack Obama's first presidential campaign for an online magazine (after turning down a marriage proposal from spoiled-rich-boy-turned-serious-college-boyfriend Logan). Lorelai, for her part, had married and divorced Christopher by the time she shared a kiss with Luke in the final moments of season 7, leaving fans to speculate about their long-awaited reunion.
Oy with the poodles already! Without further ado, let's get into it…
The Final Four Words, Revealed
During Gilmore Girls' original run, creator Amy Sherman-Palladino said in multiple interviews that she always knew exactly how she planned to end the show, right down to its final four words. In the last scene of "Fall" (each episode of the revival spanned a calendar season, beginning with "Winter"), fans finally heard those words spoken aloud:
Rory: "Mom?" Lorelai: "Yeah?" Rory: "I'm pregnant."
Mind = blown.
Luke And Lorelai Make It Official
Early on in Gilmore Girls: A Year in the Life, we learn that while Luke and Lorelai have been in a committed relationship all these years, they remain unmarried — much to the chagrin of Emily, who calls the pair "roommates" and doubts the seriousness of their partnership. By the time "Fall" rolls around, though, the soul mates agree it's been far too long and decide to tie the knot in a picture-perfect late-night ceremony at the Stars Hollow gazebo.
The bad news? Emily wasn't in attendance, and her bitterness at being excluded from yet another milestone in her daughter's life is sure to feature prominently in any future Gilmore Girls episodes, should we be so lucky.
We Still Don't Know Who Fathered Rory's Baby
The final four words may have divulged Rory's surprise pregnancy, but the jarring cut to black that immediately followed left fans with more questions than answers. Who's the father? (Please say it's not Paul, Rory's forgettable boyfriend of two years.) Will Rory follow in her mother's footsteps and raise her baby alone? What did this mean for her love life (in other words, will she end up with Logan, Jess, or someone else entirely)? And finally, will Rory's baby be (another) Gilmore girl?!
Emily Found A Maid She Actually Likes
In the original series, Emily hired and fired almost as many maids as Lorelai's daily cups of coffee. But in the revival, her latest housekeeper, Berta (played by Rose Abdoo, who also recreated her original role as Stars Hollow's car mechanic, Gypsy), essentially becomes a part of Emily's family — along with her husband and kids, natch. They even tag along when Emily moves to Nantucket and becomes a tour guide at the local whaling museum. Surprising? Yes. Tear-inducing? Definitely.
Michel Is Gay, Married, And Adopting A Child
Though it was always assumed Michel — Lorelai's right-hand man at the Dragonfly Inn — was gay, it was never really confirmed during Gilmore Girls' first seven-season run. But in "Winter," Michel's first line reveals he's not only married to someone named Frederic, but he and his hubby are also planning to adopt a baby. It's a beautiful addition to Michel's story and proves he's much more than the acid-tongued comedic relief in Lorelai's life... And bravo to the show for finally adding some gay characters to the mix!
Emily Has A Boyfriend, Kind Of
Richard Gilmore's death in the revival wasn't much of a spoiler, since portrayer Edward Herrmann passed away in 2014 after a bout with brain cancer — and Sherman-Palladino spoke openly about Gilmore Girls: A Day in the Life paying tribute to both Herrmann and Richard. In the revival, we learn the Gilmore family patriarch died suddenly after experiencing his third heart attack, and much of the four episodes explore the fallout of his untimely passing. Emily's journey after losing her husband of 50 years is especially poignant, and in "Summer," we see her spending some time with Jack, an old friend of Richard's from Yale. It's implied they might be more than friends, but it's even more obvious no one will ever take Richard's place in Emily's heart. RIP, Mr. Gilmore.
Rory's Writing A Book
Rory struggles with her fledgling writing career throughout the revival, and it's Jess — the second of her high-school boyfriends — who encourages her to write a book dealing with something she's passionate about: her relationship with her mother. Despite Lorelai's initial reservations about having her secrets shared with the world, she eventually gives her blessing for Rory to continue with the project. By the end of "Fall," Rory's written three chapters of her book, fittingly titled The Gilmore Girls. But wait, Lorelai does have one note: "Drop the 'the.' Just Gilmore Girls. It's cleaner."
Can you say bestseller or what?