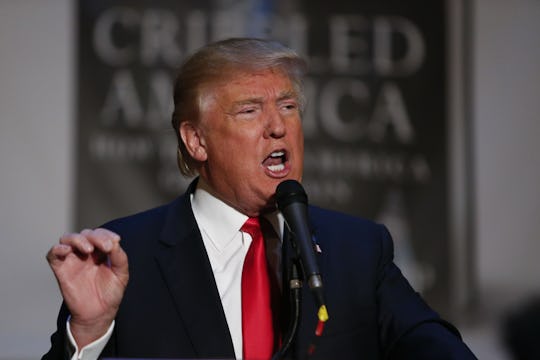 KENA BETANCUR/AFP/Getty Images
GOP Tells Donald Trump To Cool It With The Racist Comments Against Latino Judge (He Won't)
Presumptive Republican presidential nominee Donald Trump is at it again, although, to be fair, he never exactly stopped with the racist comments. The real estate mogul has been embroiled in a series of lawsuits for months now, all of which claimed that his now-defunct Trump University was allegedly a scam meant to prey on low-income victims. Now, he's claiming that the judge assigned to the case is biased against him because of his Mexican heritage, and after he directed blatantly racist comments at the Mexican-American judge, GOP leaders finally told Trump to cool it.
Trump's main foreign policy promise is to build a wall along the United States-Mexico border to keep immigrants out, so he believes that U.S. District Judge Gonzalo Curiel is unable to fairly do his job of ensuring a fair trial for Trump. The candidate is fighting claims that Trump University, which purported to teach students the secrets of getting rich off real estate, did not deliver on its promises and was designed to pump enrollees for money.
Last week, Curiel ruled that key Trump University documents must be publicly released as part of the case, prompting Trump to claim the judge had an "inherent conflict of interest." And on Friday, he vociferously defended those remarks during a sit-down with CNN's Jake Tapper, going as far as to call for the judge to remove himself from the case.
"If you are saying he can't do his job because of his race, is that not the definition of racism?" Tapper asked Trump in one of the 23 moments during Friday's interview in which he grilled the candidate on the correlation between his comments and racism.
"No. I don't think so at all," Trump answered. "He's proud of his heritage. I respect him for that... He's a Mexican. We're building a wall between here and Mexico."
In reality, Curiel was born in Indiana to Mexican-born parents, making him as American as Donald Trump himself. But what it actually makes him "conflicted", in Trump's view, is that he's "a hater of Donald Trump" — an opinion he wielded unapologetically during a campaign rally last week.
The GOP establishment has struggled to back Trump since Texas Sen. Ted Cruz dropped out of the race May 3 after losing a key primary. Senate Majority Leader Mitch McConnell has repeatedly urged the party to unify around him, but even he said he "couldn't disagree more" with Trump's comments about Curiel's ability to do his job effectively, despite the fact that Trump has pulled stunts like calling Mexicans "rapists" and "criminals" and shamelessly pandering to "Hispanics" by tweeting about eating a taco bowl on Cinco de Mayo.
Meanwhile, Republican Sen. Bob Corker, chairman of the Senate Foreign Relations Committee, said during ABC's This Week that he does not condone Trump's comments. Former Speaker of the House Newt Gingrich had the most scathing review.
"This is one of the worst mistakes Trump has made," he said on Fox News Sunday. "I think it's inexcusable... He is now the potential leader of the United States and he's got to move his game up to the level of being a potential leader."
Instead of striving to do that, though, Trump doubled down in his comments, saying that a hypothetical Muslim judge would be just as unqualified to hear the Trump University case as he believes Curiel to be. That's not surprising, considering that Trump has exhibited a similar ruthlessness when it comes to Muslims, claiming that they should be barred from entering the United States to prevent terrorism, for example.
It's quite telling that despite Trump's recent rhetoric, his legal team has not sought to have Curiel removed from the case, likely because they know it would be a ridiculous, losing move. It's also interesting to note that even though Trump has repeatedly claimed that Hispanics love him and that he's going to garner their votes (hint: he's wrong), he immediately labeled a Mexican-Americans who did not produce the rulings he wanted as a biased "hater" based solely on the fact that he is of Mexican descent. Offensive and hypocritical comments are Trump's trademark, however, so as long as Americans continue to vote for him, he'll continue to make them — no matter what his party has to say about it.