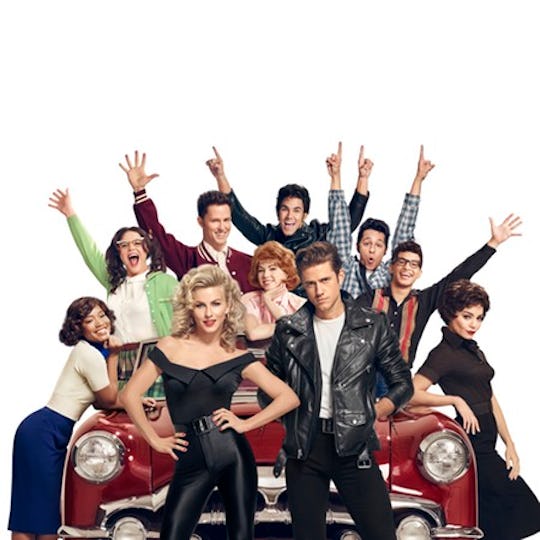 FOX
'Grease: Live!'s End Did Not Feature A Flying Car & That's The Only Thing Disappointing About It
On Sunday night, the revived Grease: Live! gave viewers colorful costumes, memorable performances, and nostalgia for days. But there's one thing it didn't give us. Grease: Live! did not end with a flying car, and the internet is beyond disappointed. Would it have been a nightmare to pull off? Sure, but then again, Vanessa Hudgens and Julianne Hough were dancing their tails off in high heels, and that's just as impossible (if you ask me).
While the missing flying car wasn't the only change — as Grease: Live! was different from the movie in a number of ways — it seemed to be the change viewers had the most problems with. Instead of an impressive convertible flying into the sky, viewers were given a parade of golf carts, driven by Danny Zucko aka Aaron Tveit and his arms (literally cannot forget about those arms!). So, OK, we didn't get a flying car, but we got all that other cool stuff? Like golf carts and cotton candy because maybe their budget ran out for a flying car because, honestly, the entire production was beyond impressive and had to have been pricey.
Either way, the internet had some feelings about the Flying Car That Never Was. Here are just a few of the reactions, because you can't mess with our childhoods, Hollywood:
Next time, there will be a flying car, right FOX?