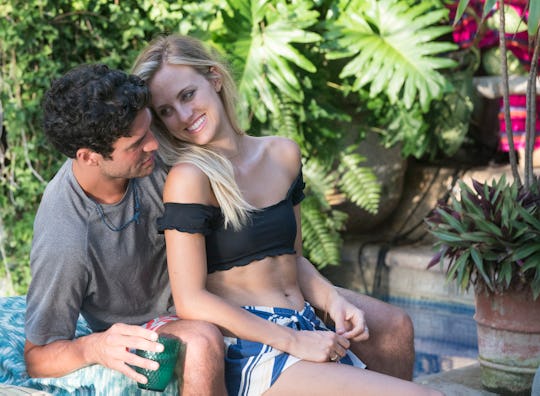 Paul Hebert/ABC
Grocery Store Joe Babysitting On 'Bachelor In Paradise' Made Twitter Swoon
As if Grocery Store Joe could win over any more fans than he already has, he proved on Tuesday's episode of Bachelor in Paradise that he really can do no wrong. Because Grocery Store Joe babysitting on Bachelor in Paradise made Twitter fall in love with him all over again. He and Kendall were given a coveted date by BiP alums Evan Bass and Carly Waddell and Jade Roper Tolbert and Tanner Tolbert, and it really couldn't have gone better.
Although the date first consisted of taking care of both couple's respective babies, Joe and Kendall rose to the occasion and Twitter was all about seeing Joe carry and care for two little babies at once. Unfortunately, babies may not be in the immediate future for the couple, as Kendall made it clear that she's not as experienced as he is when it comes to kids, but he was all about taking on the challenge. Even when one of the babies was in a nearly constant state of crying.
I don't think anyone really expected anything less from Joe than throwing himself into the role of babysitter in the name of proving himself to the woman he's falling in love with. But Twitter was still so impressed at his swoon-worthy babysitting skills.
Quite frankly, watching Joe babysit on BiP was kind of a turn on for some fans on Twitter. He's already won the hearts of so many viewers for being down to earth and seeming so genuine in almost everything he does and says. So the whole babysitting gig was like another notch up on the likability scale.
Seeing Joe and Kendall embark on their own adventures in babysitting also made some fans ponder the idea of what their potential future children would be like. And I think the consensus is that Kendall and Joe would make some pretty amazing BiP babies.
The Joe babysitting segment on BiP was also probably a little too short for fans. Sure, it was fun watching Kendall and Joe put together baby furniture, but the actual babysitting portion of their date really was an epic BiP date. And I could have done with at least 10 more minutes of watching Joe try to cheer up the babies.
The rest of Tuesday's episode almost paled in comparison to Joe and Kendall's babysitting date early on. Like I said, Joe somehow made himself even more likable and adorable than he already was to almost every BiP fan.
Although neither Joe or Kendall have children of their own, Joe did credit his general ease around babies to having several young cousins back home. And he really did seem totally comfortable rather than just trying to put on a show for Kendall or the cameras. Which, again, makes it even easier to root for him. I mean, he called himself Uncle Joey.
Of the currently established couples on BiP right now, there probably wasn't a better couple to have gotten the babysitting gig that was the precursor to an actual date. OK, I probably would have paid money to see Jenna and Jordan babysit instead, but it was still endearing to see Joe play Daddy, if only for a little while.
If nothing else, Kendall and Joe's babysitting date on BiP gave fans yet another reason to root for them as a couple and another reason to love Joe. Since it;s unclear yet if Joe and Kendall get engaged by the end of the season, it's hard to say if they'll have kids someday. But judging by Twitter's reaction to Joe babysitting, the BiP star would probably embrace fatherhood with ease.