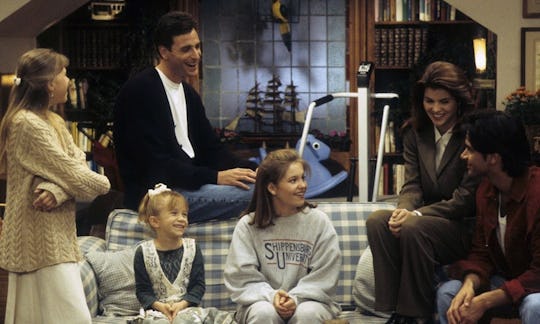 ABC
Don't Miss Hallmark Channel's 'Full House' Marathon On New Year's Day
The return of the Full House universe in the form of its Netflix reboot has been like the TV show we all never knew we needed. But since it premiered three seasons ago, it's been a steady favorite for fans of the original and now, new fans as well. So what better way to honor the original than by watching Hallmark Channel's Full House marathon on New Year's Day, right?
If you're lucky enough to have the day off, you can totally veg out in bed or on the couch and watch the evolution of some of your favorite characters in all of their '80s hair glory. Or, you can use the marathon as a chance to nurse your hangover and stay in literally one spot while you sing along with the original theme song and watch the Tanner family when Michelle was still apart of it. The marathon begins at 4 p.m. EST and runs until 6 a.m. EST on Jan. 2, but there's no unwritten rule that says you can't be lazy in the late afternoon and evening as well as all day long. It's kind of the perfect ending to all of the best Hallmark holiday movies that so many of us live for during the holiday season.
Full House is easily one of those timeless '90s sitcoms that's fun to watch whether you jump in when there are still pink bunnies in Uncle Jesse's bedroom or start during one of the seasons where Stephanie is suddenly a pre-teen. During Hallmark's Full House marathon on New Year's Day, things kick off with the Season 1 episode "Knock Yourself Out" and covers a lot of the early episodes. But that nostalgia is very real and there are a few choice episodes you won't want to miss during the marathon. Such as...
"Joey's Place" at 5:30 p.m. EST
In "Joey's Place," Joey goes on a comedy tour, only to return home to find his alcove bedroom completely cleaned out and the family seemingly undisturbed by his return home. After he works up some anger, they finally show him the new bedroom they created in what used to be the basement garage. You know, just a completely finished and sealed off bedroom in the span of a month that probably cost Danny a small fortune.
"Sisterly Love" at 7 p.m. EST
In the Season 1 episode, D.J. realizes her newest dream of becoming an actress, only to be accidentally thwarted by Stephanie during her audition. You have to feel bad for D.J., but it's also hard to ignore how adorable Stephanie was as a little kid on Full House.
"Just One Of The Guys" at 9:30 p.m. EST
Kirk Cameron, who is D.J.'s real life brother, guest stars in this episode as her cousin who comes to visit the Tanner family. Only he's older and more mature than the last time she saw him and it's kind of heartbreaking to watch D.J. try and fit in with him and the other men of the house.
"DJ Tanner's Day Off" at 11:30 p.m. EST
Any episode of Full House that shows the girls being just a little bit rebellious is always fun to watch, especially since they're usually pretty squeaky clean. So when D.J. skips school to go to the mall for her favorite singer's autograph, obviously it doesn't end well for her. But you better believe a life lesson is learned.
"Tanner vs. Gibbler" at 12:30 a.m. EST
Two important things happen in this episode. The first is that Kimmy and D.J. have their first big fight of the series, after which they make up in a very Full House way. But the second is the introduction of Becky, Danny's Wake Up, San Francisco co-host and Jesse's future wife.
There are definitely some personality traits and silliness that poured over to Fuller House from the original, so even if you've never been much of a fan of the show that made the revival possible, the marathon will still be fun to watch.
Check out Romper's new video series, Romper's Doula Diaries:
Watch full episodes of Romper's Doula Diaries on Facebook Watch.