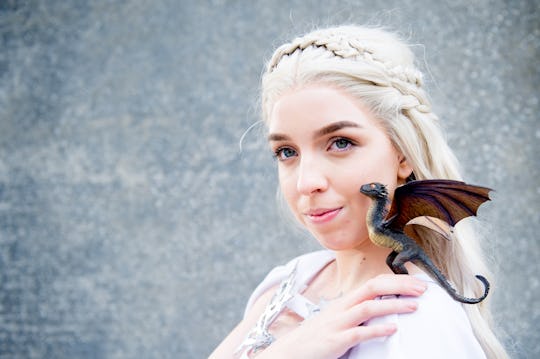 Ollie Millington/Getty Images Entertainment/Getty Images
These 9 Halloween Costumes Are All About That Platinum Blonde Hair
Sure, costumes and makeup get a lot of attention around Halloween, but for some people, it's all about the hair. Whether it's your own hair or a wig you're getting just for the holiday, sometimes the locks are the star. And as these Halloween costumes for platinum blonde hair prove, some looks are just made for this iconic shade.
First, there's no shortage of famous celebrities to turn to for inspiration, because platinum blonde hair has been a celeb staple since the Old Hollywood days. Then of course there are plenty of popular characters from books, movies, and TV shows who are known for their white-blonde locks. From classic storybook characters to the stars of '90s movies, sometimes the hair is a crucial part of the character. Lastly, there are a whole selection of classic Halloween costumes that simply look incredible when paired with this shade of blonde, from mythical creatures to royal rulers.
Platinum blonde hair is a bold, fashion-forward shade that's perpetually on-trend, whether you're rocking a mostly shaved head or waist-long locks. So if you want to make this white-blonde shade the star of your Halloween costume, then go ahead and play up this glamorous and fun hair color.