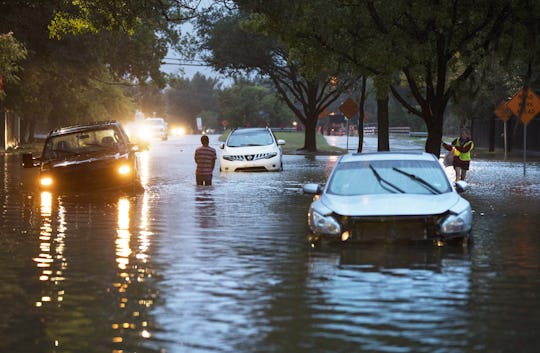 Erich Schlegel/Getty Images News/Getty Images
Harvey's Damage Is Forcing Thousands Of Students Into Portable Classrooms
The state of Texas is still reeling from the damage that Hurricane Harvey caused over a week ago. Houston and several smaller towns in the state are just beginning to repair the damage Harvey has caused. Of course, hundreds of organizations and public figures have offered their support in the wake of the latest natural disaster to strike the United States, but there are some things that can't be fixed so easily. In fact, Harvey's damage may force thousands of Houston students to go to different, makeshift schools — and that's just the beginning.
According to The Houston Chronicle, "More than 10,000 Houston Independent School District students are expected to start classes in temporary quarters," although the exact number is unclear. What is clear, though, is that, according to Houston ISD's Superintendent, Richard Carranza, a large number of the district's schools have been flooded, destroyed, and damaged to an extent that means they will not be ready for the start of school in just a few days. As Fox News reported, 22 of HISD's "245 schools had extensive damage that will keep them closed for months and about 53 have 'major' damage."
So, now that Harvey's rains have ceased falling, the city will have to pick itself back up — and over 10,000 students will have to deal with a temporary classroom, on top of everything else.
In fact, several schools in the Houston area were still reportedly surrounded by waters and nearly completely flooded as recently as Saturday. And with some Houston area districts having yet to announce start dates for the 2017-2018 school year, the news that so many HISD schools will likely remain closed isn't too surprising. But it is a very disappointing glimpse at the destruction Harvey has caused and the altered future now in state.
While many Houston students may have to change schools, this news comes just days after it was announced that all HISD students would be set to receive three free meals a day at school. So, while it's fortunate that kids and teenagers will have one less thing to worry about after Harvey has wrecked so many of their homes and lives, the news that many will have to relocate schools is still saddening.
Change is hard, and the students in Houston have already had to endure so much just this past week. Hopefully, all the displaced students can find camaraderie in the fact that they'll be learning in portable classrooms, and the necessary repairs on their schools can be completed in a timely manner.
Until then, though, stay #TexasStrong.
Remember, you can still donate to the much-needed relief efforts in Texas. Here's a list some great list of local organizations to help out if you can.