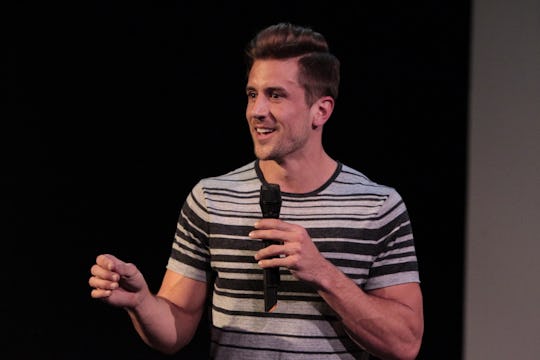 ABC/Rick Rowell
Has Aaron Rodgers Addressed Jordan On 'The Bachelorette'? They're Not Very Close
On Monday's episode of The Bachelorette, Jordan Rodgers finally addressed the elephant in the room – that elephant being his professional football-playing older brother, Aaron Rodgers. Jordan revealed to JoJo that his relationship with his brother is pretty strained. Has Aaron Rodgers addressed Jordan on The Bachelorette?
This came about on a one-on-one date between Jordan and JoJo (surprise surprise, he was granted yet another one this episode). Unlike the previous solo dates, there were no roses attached to them; there was less pressure as Jordan knew he was safe (except Alex was also given a solo date earlier in the episode but was sent home...but he was Alex, not Jordan).
Maybe that's the reason, then, that the Aaron Rodgers flood gates were finally opened. This was masked by JoJo asking about meeting Jordan's "family" (because obviously he's making it to the hometown visit). Jordan began by talking about his other siblings and family members, but then got down to what JoJo – and us and the producers – really care about: his older brother, Green Bay Packers quarterback Aaron Rodgers.
Jordan admitted that he's not very close to Aaron, and that it's unlikely that he'd be at home should JoJo (and The Bachelorette camera crew) visit. Even outside the show, he has talked about this less-than-perfect relationship. As a guest on Katie Nolan's Garbage Time Podcast he said, "Um, we have a relationship...You know, it's complicated. I'll say that."
When Nolan pressed on the subject and asked if Aaron was watching the show, Jordan had this to say: "I'm sure everybody watches the show, so yeah. I think so, yeah."
Not the most promising in terms of their brotherly love. Has Aaron himself opened up to his relationship with Jordan? It doesn't seem so. There's no indication that Aaron has spoken publicly about Jordan being on The Bachelorette, and Jordan himself isn't even sure if he's been keeping up with the show.
It's pretty obvious that Aaron knows about what Jordan's doing – especially since for the first few episodes of this season, Jordan was pretty much always addressed as either "Aaron Rodger's brother" or a "failed football player." Regardless, they do not seem to have the kind of relationship where Aaron would comment publicly on it, especially if he makes a point not to be there for the hometown visit. Hopefully now that Jordan has addressed this both on The Bachelorette and off, we can get over this awkward contact (or lack thereof) these brothers have.