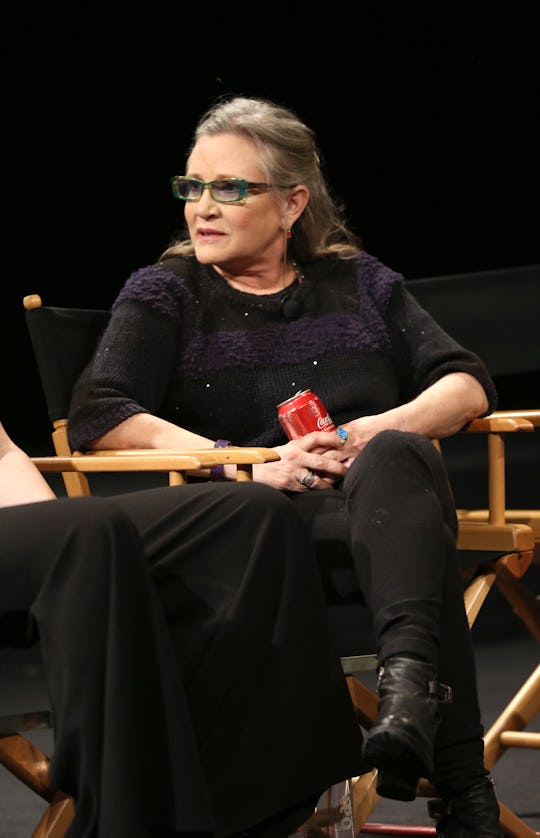 Robin Marchant/Getty Images Entertainment/Getty Images
Has Carrie Fisher Been Sick?
On Friday afternoon, fans everywhere were shocked to hear that Carrie Fisher had suffered from an apparent heart attack. The news seemed to come out of nowhere since it didn't seem that Carrie Fisher had been sick at all. In fact, it was just the opposite. The 60-year-old Star Wars actress opened up last year about her role in The Force Awakens and losing a lot of weight, very quickly. She told Good Housekeeping last year that she was pressured to lose 35 pounds, but tried to do it in the healthiest way possible. "I did it the same way everybody has to — don't eat and exercise more! There is no other way to do it," she said.
Obviously, one has to eat, even to lose weight, but Fisher looked healthier than ever.
The actress has struggled before to lose weight, though. In 2011, she was a spokesperson for Jenny Craig and at the time was 180 pounds, which for her 5 foot frame, was technically overweight. She told People at the time, "I'm fat. All the clothes in my closet belong to another chick. They have to make a new alphabet for my bra size."
Leave it to Fisher to be blunt about things. She told People that she lost 30 pounds back then the healthy way — with diet and exercise. "My blood pressure is down. And I can stand on the scale at the doctor's office," she said. Although weight loss can be associated with heart problems, there is still no confirmed cause of her sudden illness.
Fisher didn't seem to have any other health issues recently, which made her heart attack aboard a United Airlines flight from London to Los Angeles all the more surprising to her fans. She allegedly went into cardiac arrest 15 minutes before landing at LAX around noon on Friday. She was in critical condition until later in the evening when her brother, Todd Fisher, told the Associated Press that she was "out of emergency," stabilized, and resting in the ICU.
Fisher's brother told Entertainment Tonight, "She is in the intensive care unit, she is being well looked after. If everyone could just pray for her that would be good. The doctors are doing their thing and we don't want to bug them. We are waiting by patiently."
Her brother added that Fisher's condition is still up in the air. "We don't know. We hope for the best. We certainly do not know her condition, that's why she is in ICU. I'm sure everyone wants to speculate, but now is not the time for that," he said.
In the meantime, fans and colleagues have taken to social media to express their concern and show that the force is very, very strong when it comes to Fisher. Hopefully, everyone's favorite princess will be recovering soon.