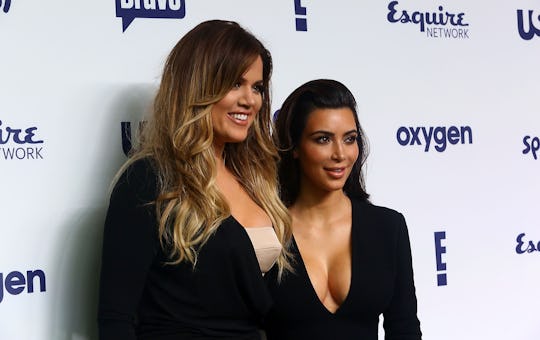 Astrid Stawiarz/Getty Images Entertainment/Getty Images
Have Khloe & Kim Kardashian's Surrogate Met Yet?
It has been a busy season for the Kardashian-Jenner family. Not only are they celebrating the 10 year anniversary of Keeping Up with the Kardashians and numerous beauty line launches, the pregnancy news just won't quit. Although the rumors that Khloé Kardashian and Kylie Jenner are both pregnant haven't been confirmed by any of their official representatives, Kim Kardashian has confirmed that she and husband Kanye West are expecting their third child, reportedly via surrogate. Which makes us wonder all sorts of things: Like where the surrogate is living, what she's like, if Kim gives her contouring lessons, and if her sisters, especially, Khloé Kardashian, has met Kim's surrogate yet.
It's a good question and one, unfortunately, that we do not have the answer to. But it would be an interesting meeting. Earlier this year, Khloé was rumored to be her sister's surrogate, so she'd likely be interested in seeing who Kim and Kanye eventually went with.
During the Season 9 finale of KUWTK, Kim brings Khloé along to the doctor and surprises her then 32-year-old sister with an ultrasound. Khloé, who had discussed being the surrogate on the show more casually in the past said at the time, "I come here just for doctor's appointment — I have no idea I'm about to even get an ultrasound. This whole thing is just kind of snowballing, and it's moving really fast for me," according to People.
However, as it's been reported, Kim and Kanye ended up going with another surrogate option, for reasons they haven't confirmed (and shouldn't have to). In late September, Kim confirmed that she and Kanye are now expecting a third child, although she didn't directly confirm if they were via their surrogate. In an episode of Season 10 KWUTK, she tells Khloé the good news over FaceTime.
"What happens every time I say 'guess what'?" Kim asked her sister over Face Time ."You're pregnant," Khloé replied. "Or the person's pregnant."
"We're having a baby!" Kim cried as Khloé screamed, confirming the news.
Before the clip aired ahead of the premiere, Kim was pretty tightlipped about the news. According to the New York Post, she said at the Harper's Bazaar "Icons By Carine Roitfeld" event:
So, I think when we're ready to talk about [the pregnancy] we will, and I think it's super invasive when people are just … So many details out there, and like I've never heard this, I've never heard this. Like whatever. We have not confirmed it, and that's that. I'll let you know when we're ready.
Almost all of the Kardashians have been more private than they used to be ever since Kim's robbery in Paris last year. And one of the bonuses of using a surrogate — besides potentially saving Kim or the baby's life — was that she could keep it secret.
According to E! News, she told her mom, Kris Jenner, in a Season 9 episode, "The best thing [about using a surrogate]: I could have a new baby and have no one know and live my life for a good year before we announce it."
Kim rightfully wants to keep her private life as private as humanly possible, so for everyone's good it's not likely that anyone will know her surrogate's identity anytime soon. But given how close she and her sisters are, it's possible that Khloé has met her at some point or at least knows who she is.
Then again, the relationship between a surrogate and the intended parents varies greatly depending on the situation. Kim has only confirmed that she has a baby on the way, likely via surrogate, but media outlets have previously reported that the surrogate is being paid $100,000 for the pregnancy (paid surrogacy is legal in California, though not in some other states) but the terms of her agreement with the couple aren't publicly known.
She could have just as easily moved into Kim's house and brunches with the Kardashians on the daily as she could be happily at home somewhere else in the state just biding her time, staying healthy, and hiding from the paparazzi. If the family wants everyone to know whether the surrogate, Khloé, and the other sisters all get along, they'll likely let their fans know in due time.
Watch Romper's new video series, Romper's Doula Diaries:
Check out the entire Romper's Doula Diaries series and other videos on Facebook and the Bustle app across Apple TV, Roku, and Amazon Fire TV.