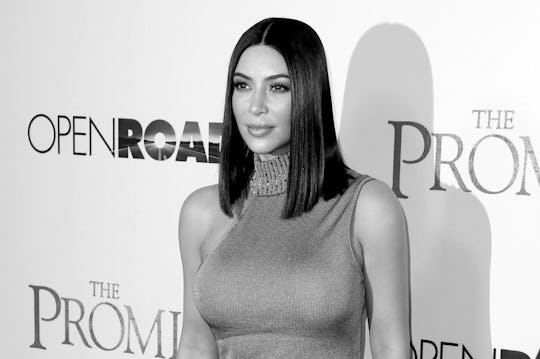 Frederick M. Brown/Getty Images Entertainment/Getty Images
How Experienced Is Kim K's Surrogate?
From her $4 million diamond engagement ring to the endless designer clothes in which she dresses herself and the two kids she shares with Kanye West, Kim Kardashian accepts nothing but the best. So, it comes as no surprise that the woman the socialite has tasked with the gargantuan responsibility of carrying her third child to term is reportedly experienced in the surrogacy realm. Although she and West haven't officially confirmed that they've hired a stand-in, word on the street is that Kim Kardashian's surrogate has been a surrogate before. Kardashian, on the other hand, is a newbie to the world of surrogacy: She gave birth to both 4-year-old North West and 19-month Saint West before her doctor advised her against getting pregnant again for medical reasons.
Still, despite the placenta accreta that plagued both her pregnancies, the Keeping Up with the Kardashians star wanted to have another child. "I'd just love nothing more than to expand my family and just know that I have this world at home that's safe," she said on a recent episode of the E! reality show. And considering that E! News itself cited multiple sources claiming the surrogacy rumors were true, all signs indicate that Kardashian and West will, in fact, be welcoming Baby No. 3 in the near future.
And the "near future" wold be January 2018, to be exact. According to Us Weekly, Kardashian's surrogate was already three months pregnant as of the end of July. Her identity isn't public, of course, but the magazine reported that she is a woman from San Diego who is in her early twenties with whom the celebrity couple connected through an agency. And she is reportedly a mom herself in addition to having served as a surrogate previously — which means that when it comes to pregnancy, this surrogate is probably a seasoned pro. Honestly, would Kim Kardashian and Kanye West really have it any other way?
The surrogate will be well-compensated for her services. Kim and Kanye have reportedly agreed to pay her at total of $45,000 in 10-month installments, as well as $5,000 per additional child in the event of multiples, like twins or triplets. They've also reportedly put down a deposit of $68,850 with the agency.
There are so many aspects of the surrogacy arrangement that the public doesn't know, and chances are that the identity of the woman at the center of it all will remain a mystery forever. One thing's for sure, though: Soon after Kardashian and West's youngest child arrives in the world, he or she will be make quite the adorable addition to the Kardashian-West clan.