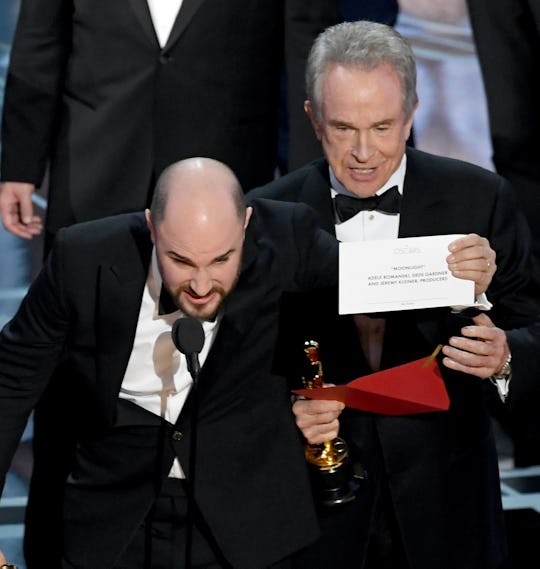 Kevin Winter/Getty Images Entertainment/Getty Images
Is This The First Major Oscars Mix-Up?
After La La Land swept up too many Oscars to even count on Sunday night, it was easy to just assume it had won Best Picture and the show was over. Yeah, it wasn't. In a crazy turn of events, presenter Warren Beatty was handed the wrong card to read and gave the honor of Best Picture to the wrong movie. In actuality, Moonlight was the Best Picture of the year, according to the Academy, and Beatty took to the mic as soon as he realized his mistake. It was like something, well, out of a movie. But is it so uncommon? Has the wrong envelope ever been read at the Oscars before?
Actually, no. Never. In all of the 89 years of the Academy Awards, there has never been a moment in TV history quite the same. Sure, Steve Harvey mistakenly announced the winner of Miss Universe last year, and while that was awkward and likely very traumatic for the women vying for the title, the Oscars is a different ball game.
This year's Oscar's ceremony was already contentious. In the most recent years, the Academy has taken well deserved heat for not recognizing films made by or starring people of color. So the whole scene of two senior members of the Hollywood elite — Faye Dunaway and Warren Beatty — announcing that La La Land won in place of Moonlight, only to then backtrack and announce that they had made a mistake reading the card, took on a whole other level of meaning.
In other words, it was super awkward. La La Land was a great movie, for sure, and when it seemed to win Best Picture many viewers took it for granted, because, yeah, it was a great movie and already won so many Oscars on Sunday that it seemed to be something of a "given" that it would take Best Picture.
Beatty then stepped in and said, "This is not a joke," and tried to explain that he had misread his cue cards and made an honest mistake. The cast of La La Land was already halfway through their acceptance speeches when the cast of Moonlight was brought up on stage to claim their rightful Best Picture award. Again, it was awkward.
Beatty claimed it was his own mistake and that he was flustered while reading his card. Since the tragic moment, Emma Stone released a statement on Twitter saying that as a presenter, she had her Best Actress card for the whole night and had time to ensure she wouldn't slip up when it came time for her to take the stage. She's implied, with many disclaimers, that she "isn't sure what happened," in the final moments of the show, but that Beatty and the cast of Moonlight and La La Land might have known what was to come.
The final moments of the 2017 Oscars show that it's hard to believe anything you read, hear, or even watch with your own eyes on TV. However the case of the mistaken Best Picture winner unfolds, one thing is for sure: Moonlight totally won.