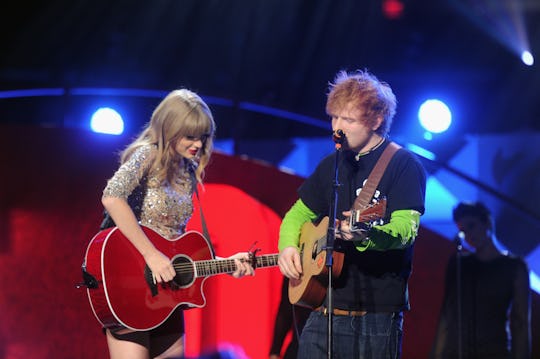 Jamie McCarthy/Getty Images for Jingle Ball 2012
Have Taylor Swift & Ed Sheeran Ever Hooked Up? Admit It, You Want To Know
Taylor Swift and Ed Sheeran have been linked at least since Swift made Sheeran the opening act for Swift's 2013 The Red Tour. During the tour, they formed a friendship that has endured as Swift has gone on to near-total world domination, and Sheeran's career has taken off. Both are being discussed a lot this week since they'll be competing for several of the same awards at Monday night's Grammys, and one question fans are no doubt asking (again) is, Have Taylor Swift and Ed Sheeran hooked up?
Sheeran is nominated for Record of the Year, Song of the Year, and Best Pop Solo Performance for "Thinking Out Loud" from his album X, while Swift is nominated in the same categories for "Blank Space" from 1989. And given these two artists' talent, success, fame, and already close (and well-documented) friendship, you can understand why fans might suspect that their relationship has at least once gone in a more-than-platonic direction. Let's examine the evidence: First, Swift and Sheeran have spent a lot of time together. Though the The Red Tour is long over, they apparently still hang out a lot, at least if the many photos of Sheeran and Swift on each other's Instagrams are to be believed. He hangs out with Swift's squad, he told Billboard in October — "It's not a vaginas-only club" — and they've celebrated the Fourth of July together, Sheeran has bonded with at least one of Swift's cats, and she has made him jam (complete with a tame Kanye dig). So basically the togetherness does not end.
Then there's the fact that when it comes to dating, Swift seems drawn to successful guys who are also in entertainment fields. In the past she's been involved with Harry Styles, Zac Efron, and Jake Gyllenhaal. Sheeran's star has been on the rise since even before the Red tour, starting with the stratospheric success of his 2011 debut single "The A Team," followed by his album + later that year, and then x in 2014 featuring "Thinking Out Loud" and "Don't." So he could definitely keep up with Swift. Finally, they'd just be cute together. So much blonde! (For help imagining their rehearsal dinner slideshow, please view the "Everything Has Changed" video below.) Sooooo... have they or haven't they?
The answer, at least according to Sheeran, is that they haven't. Despite rumors over the years, he says they're just very good friends. In 2015 he told The Breakfast Club, a radio show on New York's Power 105.1, that they haven't "smashed" because Swift is "too tall," according to Entertainment Tonight. "I feel like we look like cast members of The Hobbit."
Fair enough. Anyway, right now it's strongly suspected that Sheeran is involved with fellow Brit Cherry Seaborn, and Swift, of course, is dating Calvin Harris. Also, if Sheeran and Swift had hooked up, and the aftermath was at all awkward, would Sheeran be so comfortable tagging along to lunch dates with Swift and Harris? Probably not.
For now — because who knows what could happen in the future, You Two, wink wink – fans will have to be satisfied with continued evidence of their epic BFFdome. No matter who wins Grammy night, expect lots of hugs.