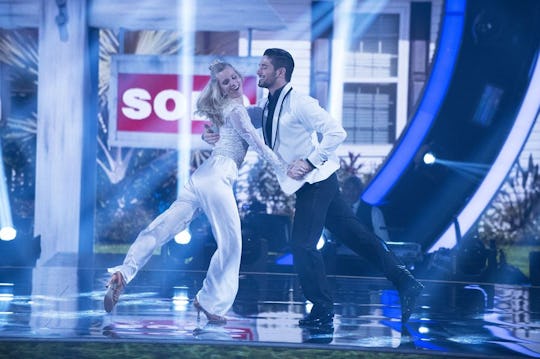 Eric McCandless/ABC
Heather Morris Channeled 'Frozen' For Disney Night On 'DWTS'
When you think of Disney week on Dancing With the Stars, it's only natural to assume that there will be lots of waltzes and princesses involved. But when Heather Morris channeled Anna from Frozen for Disney night on DWTS, it was pretty magical. It was definitely a nice change from what you might expect in a romantic song and her performance with Alan Bersten had all of the silliness and fluid movements you'd expect from someone performing to a song from Frozen. Right from the beginning, Morris and Bersten's dance number felt like it was about the two of them immersed in their characters, but while adding enough of the choreography to make it count for them.
When Morris channeled Frozen's Anna on DWTS, she jumped across the judge's table and it really felt like some live version of the movie instead of another dance on a competition show. Even though Maks Chmerkovskiy was unable to perform for Disney week, he did create the choreography for the entire number for Morris and Bersten and noted that "it was all about Disney night and embracing the characters." And that totally came across, but especially as Morris played Anna from Frozen during the song.
Some fans on Twitter compared Morris' performance on Disney night to a Broadway number rather than strictly a dance number, but I don't think it could have been done any other way. "For the First Time in Forever" is one of the most memorable songs from Frozen and Morris' Anna was every bit as enchanting as the animated character herself, which couldn't have been easy to do while still performing a song that would be worthy of a high enough score to keep her in the running.
During rehearsals, as Chmerkovskiy helped Morris and Bersten learn the dance he created for them, he said, "I need you to become the characters," and that's just what they did. Len may not have liked it when Morris channeled Anna and hopped up on the judges' table, but it was all part of the totally magical performance on DWTS.
Morris and Bersten's dance on Disney night on DWTS was not only full of the whimsy of the characters everyone already loves so much, but also included tons of jumps, spins, and in sync movements necessary to earn some high scores. They ended up with a combined score of 34 out of the possible 40, even if the judges weren't totally into how much Morris gave to her performance.
Even though Morris probably deserved a higher score for her Frozen number, the important thing is that she's remained safe for another week.