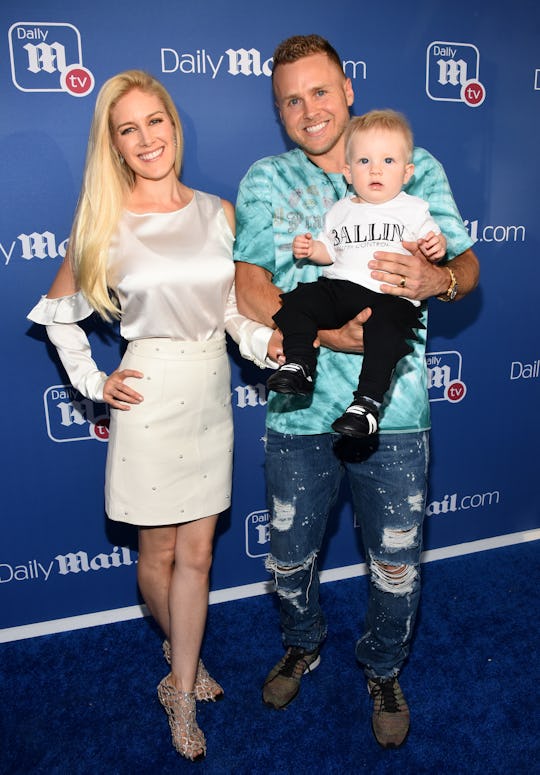 Araya Diaz/Getty Images Entertainment/Getty Images
Heidi Pratt's Son, Gunner, Is Ready To Be A Star On 'The Hills' Revival
During the MTV Video Music Awards last Monday, fans of The Hills received the best news ever: The network has decided to give the hit reality show the reboot treatment. That means viewers will get to catch up with stars Audrina Patridge, Jason Wahler, and Heidi and Spencer Pratt nearly a decade after the original series ended, plus met a few new faces, like baby Gunner Pratt. And a week after the news broke, Heidi Pratt proved Gunner fits right in with The Hills revival cast in these sweet new party pictures she posted to social media.
On Monday, Heidi, husband Spencer, and their 10-month-old son, Gunner, joined some of their fellow Hills costars for a backyard party, and documented the whole experience on her Instagram Story, according to People. In a series of video clips, Heidi can be seen enjoying downtime with her family and The Hills: New Beginnings cast, with baby Gunner just chilling at the gathering like it's no big deal.
One of her first Instagram Story videos captured Heidi, who's holding Gunner, wearing a pair of tan high heels, white denim cutoff shorts, and a pale pink tank top, People reported. Looking into the camera, the 31-year-old reality star said, "Today I am a working mom going to a pool party wearing my shoes."
Heidi continued, according to People:
Yep, it's really easy carrying a 30-lb. baby with my shoes.
I don't know if Heidi was being sarcastic, but I suspect so. Why? Because as a mom of a toddler weighing 40 pounds, I can attest to the fact that holding a child in your arms while wearing heels that are on a mission to break your ankles is not a walk in the park. But I digress.
In another video clip, Heidi informs her Instagram followers that Gunner is taking his nap, according to The Daily Mail, which means she's free to enjoy some much needed adult time. She said in her Instagram Story:
So, I finally put Gunner down. We're at Frankie's house, I've been missing everything, but now I'm ready for my glass of champagne.
Heidi then joined Spencer and The Hills: New Beginnings cast members Jason Wahler, Audrina Patridge, Frankie Delgado, and Spencer's sister, Stephanie Pratt, according to The Daily Mail. Wahler's wife, Ashley Slack, also attended the party with their 1-year-old daughter, Delilah, The Daily Mail reported.
But Gunner didn't sleep for long. In another Instagram Story post, Heidi filmed the little tot after he woke up from his nap, and began playing with aunt Stephanie, according to People.
Heidi's footage also showed dad Spencer enjoy time with his son. At one point, the 35-year-old reality star can be seen holding baby Gunner while bouncing on a trampoline, The Daily Mail reported. Spencer, who hosts a podcast with his wife, also documented the pool party on his Instagram Story, according to The Daily Mail.
It's not surprising that Gunner fit right in with The Hills stars. After all, he seemed to have a blast with his parents last week at the MTV Video Music Awards, according to Entertainment Tonight. If anything, baby Gunner Stone will probably steal the show — and fans' hearts — after The Hills: New Beginnings airs next year.
But it's unclear if the backyard party at Delgado's home will be featured in an episode of The Hills revival series. In one of the video clips posted to Heidi Pratt's Instagram Story, a camera crew can be spotted in the background as the cast enjoys their time together around an outdoor picnic table, according to People. MTV hasn't confirmed, though, whether or not the network has begun filming for the reboot since announcing it's bringing back The Hills.