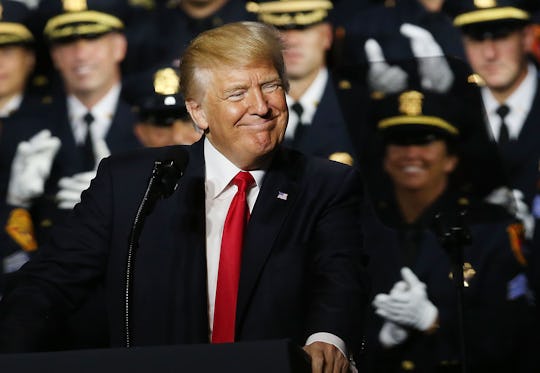 Spencer Platt/Getty Images News/Getty Images
Everyone Trump Has Fired In His First 6 Months In Office
Six months into his administration, President Donald Trump seems to be shaking up his staff. In fact, since Chief of Staff Reince Priebus "resigned privately" on Friday, people have begun making lists of everyone Trump has fired or elbowed out of the White House since his inauguration. The White House insists that there is no turmoil, but anonymous aides and sources have been telling the media since early spring that it's allegedly hard to get anything done with all of the shakeups and rivalries. That would be understandable.
Then again, everyone knew going into the election that Trump prided himself on his so-called management skills. He did, after all, become a household name after starring in the The Apprentice, in which he "fired" people for entertainment value. In the real world, Trump has made no secret that he's always evaluating his staff.
Update: On Monday afternoon, The New York Times reported that President Trump removed Anthony Scaramucci from his position as communications director, just 10 days after his appointment. Former Secretary of Homeland Security, John Kelly, replaced Reince Priebus as chief of staff on Monday, and CNN reported that Kelly requested Scaramucci be removed from his position. According to CNN, Kelly did not think Scaramucci "was disciplined and had burned his credibility."
Previously: At the Boy Scout National Jamboree last week, he joked about firing his Health and Human Services Secretary, Tom Price. Recently, he has also been expressing some negative views of his attorney general, Jeff Sessions, tweeting that if he had known the former Alabama senator would eventually recuse himself from the Russian investigation, he would not have asked him to join Team Trump in the first place.
There is absolutely no confirmation that either Price's or Sessions' jobs are on the line, but judging from the growing list of cast-offs, pretty much everyone should be worried. Here's just a short list of all the people Trump's fired or forced out in his first six months in office, in case you need a reminder of that fact.
Former National Security Adviser Michael Flynn
Trump asked the national security adviser to tender his resignation back in February, namely because it was leaked that Flynn had allegedly talked to the Russian ambassador to the United States during the transition period, possibly about U.S. sanctions against Russia, which is a big no-no.
It wasn't just that Flynn might have compromised the Trump administration (and given the FBI fodder for their Russia investigation). Flynn admittedly told Vice President Mike Pence that he hadn't had any contact with the ambassador. Pence made a statement defending Flynn, but when it revealed that Flynn might have lied, he was pushed out.
Former Acting Attorney General Sally Yates
Trump fired Yates shortly before asking for Flynn's resignation. There were a few problems with Yates, who was an Obama-era holdover until Sessions could be approved. To begin, Yates testified in May that she had warned Trump that Flynn could be compromised, before it was leaked that Flynn actually did meet with the Russian ambassador.
Yates refused to back Trump's travel ban, citing possible constitutionality issues. She was fired in January for "betraying" the administration.
Former U.S. Attorney for the Southern District of New York Preet Bharara
Usually, new presidents ask U.S. attorneys to resign, but initially Trump had asked Bharara to stay on. Then in March, the president changed his mind and fired Bharara, who was allegedly conducting an investigation into Health and Human Services Secretary Tom Price. Trump also asked 44 other U.S. attorneys to resign.
Former FBI Director James Comey
This was the most public firing of all. In May, Trump fired James Comey for reasons that are still unconfirmed. In the official statement, the president alleged that the FBI director wasn't doing his job properly. In testimony earlier this summer, Comey insinuated that he was fired for not being loyal to the president and for not calling off his agency's investigation into the Trump campaign and the Russian government. America may never know exactly why Comey was canned, as the investigation into all Russia matters is ongoing.
Former Communications Director Mike Dubke
Dubke technically quit back in early June, but word from the White House is that he was slowly pushed out of the inner circle. Sometimes, the line between quitting and getting fired is pretty thin. He was brought on to bring "focus" to the administration's communications strategy, which had been hard to manage since the beginning.
Dubke said at the time, "The reasons for my departure are personal, but it has been my great honor to serve President Trump and this administration. It has also been my distinct pleasure to work side-by-side, day-by-day with the staff of the communications and press departments." He was replaced this month by the controversial Anthony Scaramucci, otherwise known as "The Mooch."
Former Press Secretary Sean Spicer
Again, Spicer tendered his own resignation, so he wasn't technically fired. But he wasn't encouraged to stay on, either. Leading up to his resignation, Spicer had not done a briefing in three weeks. He was also openly opposed to the hiring of Scaramucci and quit the same day Scaramucci was hired.
Former White House Chief of Staff Reince Preibus
Leading up to the hiring of Scaramucci and throughout the summer, rumors had been circulating that Trump and Preibus were no longer on good terms. On Friday, Trump tweeted that Priebus was being replaced by now-former Secretary of Homeland Security John Kelly.
In addition to firing or forcing people out of his administration, others have also quit or been reassigned. These people are: Deputy National Security Adviser K.T. McFarland (reassigned), U.S. Census Bureau Director John Thompson (resigned), Office of Government Ethics Director Walter Shaub (resigned), and Deputy Chief of Staff Katie Walsh (resigned).
Hopefully, with the hiring of a new chief of staff and communications director, the Trump administration can get back to work soon.