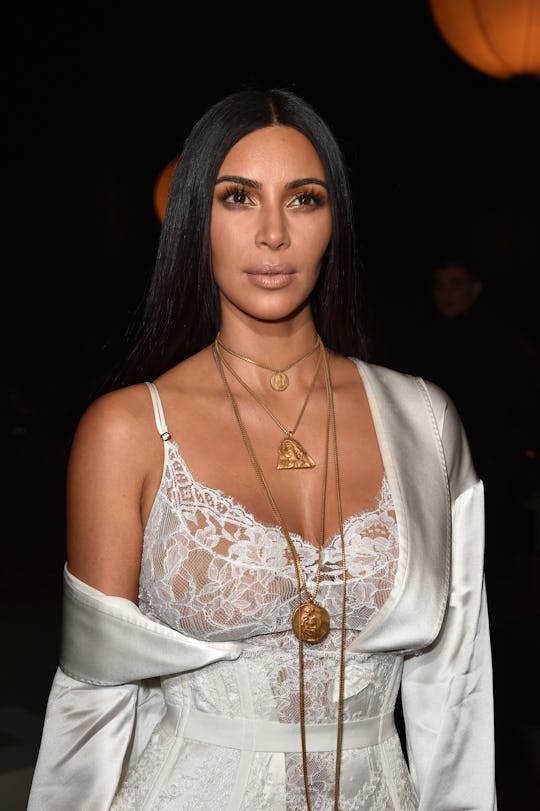 Pascal Le Segretain/Getty Images Entertainment/Getty Images
Here's Everything We Know About Chicago West So Far
On Jan. 15, after months of anticipation, Kim Kardashian and Kanye West welcomed their third child, Chicago West, via a surrogate. Although Kardashian and West have kept most of the major details about Chicago private so far (which is totally fine, of course), the couple has dolled out some info here and there. And since you probably would rather not scour the internet to find these few and far between details, here is everything we know about Chicago West so far.
A day after Kardashian's surrogate gave birth, she took to Twitter to gift fans with a simple announcement heralding Chicago's arrival. "She's here," Kardashian declared to her followers in a short and sweet message, according to PEOPLE.
And on Kardashian's personal app, she penned, according to Us Weekly:
Kanye and I are happy to announce the arrival of our healthy, beautiful baby girl. We are incredibly grateful to our surrogate who made our dreams come true with the greatest gift one could give and to our wonderful doctors and nurses for their special care.
As you might have already noticed, the details surrounding Chicago are pretty scant. But there are a few more pieces of info that we do know, which you can check out below.
Kylie Jenner Did Not Give Birth To Her
Sorry to break it to you conspiracy theorists, but Kylie Jenner did not give birth to Chicago. Although a lot of fans speculated that this was the case given a variety of factors (Jenner's disappearance from the public eye being the most notable one), Kardashian debunked the theory in a candid message about why she chose a surrogate to carry her third child. When explaining how she chose her surrogate, Kardashian revealed, according to ELLE:
You can either choose someone that you know or you can go through an agency, like Kanye and I did.
Yep, consider surrogate-gate officially closed.
Her Name Has A Lot Of Meaning
On Jan. 19, Kardashian revealed the name of her little one: Chicago West. The name, which is undoubtedly very unique, likely holds special meaning to West as that's where he grew up following a move from Atlanta at age 3, according to the Chicago Tribune.
West also said of his hometown, according to a 2013 interview with Hypebeast:
I'm lucky because I'm from Chicago and because I'm from Chicago, I don't give a f*ck. I care, but I don't give a fuck. That's what it is. Someone from Chicago is very sincere. They got their heart like that... but they don't give f*ck about what anybody is saying as long as it's from their heart. And that's like what it is to be from Chicago, to be from the Midwest.
Her Nursery Is Kind Of Low-Key
In an interview with Architectural Digest published on Wednesday, Kardashian revealed that Chicago is sleeping in a hand-me-down crib previously used by her two other siblings, North West and Saint West.
Kardashian revealed the somewhat surprising info (she's not necessarily a thrifty type of person) while also making note of a few pricier items present in the nursery, according to AD:
I'm pretty much using the same crib and everything that I had for our other kids. We have a Vetro Lucite crib and we have a Royère bed in there and a really fluffy cream rug. We had a changing table made. I have a glider with an ottoman for feeding.
And if you're wondering how much a Vetro Lucite (doesn't this sound like some sort of spaceship or something?) crib will cost you, it typically runs for a staggering $4,500, according to Nursery Works.
She's Spending A Lot Of Quality Time With Kim
Considering how badly Kardashian wanted baby number three, it's no surprise that she already has a very strong bond with Chicago.
A supposed insider said of the pair's incredible connection, according to Us Weekly:
Kim's a very hands-on mom. Kim gets up for everything, in the middle of the night, especially in the first week. It's really important they bond with the baby.
So sweet, right?
She's Reportedly A Big Hit With North West
Remember when North wasn't so thrilled about her younger brother Saint's arrival? Well, it sounds like she's over the whole sibling rivalry thing because she's supposedly over-the-moon about Chicago.
A supposed insider revealed, according to Hollywood Life:
North is finally embracing her role as big sister after some initial acting out. North now has a cute nickname for Chicago — she calls her 'my baby' and she's been helping with bottle feeding and changing her diapers.
Cue the aw's, people.
Check out Romper's new video series, Romper's Doula Diaries:
Watch full episodes of Romper's Doula Diaries on Facebook Watch.