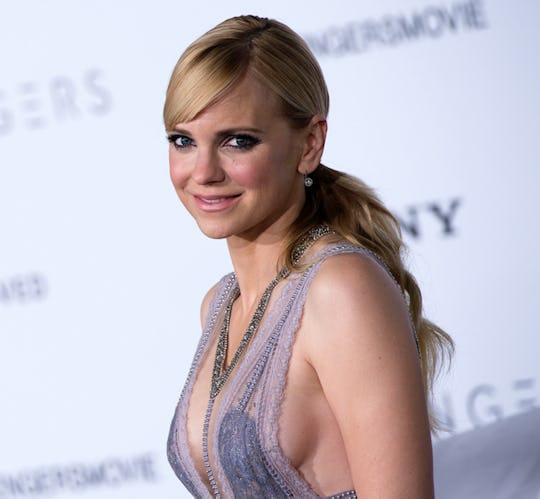 VALERIE MACON/AFP/Getty Images
Here's How Anna Faris Is Handling Her Split From Chris Pratt
Going through a divorce is traumatic, which is why so many fans are clamoring to know how their beloved Anna Faris is handling her divorce from Chris Pratt. A lot of people are way more emotionally invested in the romantic lives of celebs than they should be, but when you spend that much time adoring a couple and their work, it's hard not to wonder.
Fans of Faris' podcast Unqualified know that she's pretty practical when it comes to love. She always ensures her dear listeners to do what's best for them — and she always as a sense of humor about things, even when things seem pretty awful. Luckily, it looks like she's been taking the kind of advice she'd give herself since breaking the news about her uncoupling.
Allison Janney, who plays Faris' TV mom on CBS' Mom, recently chatted with E! News about her friend's well-being . On the red carpet of the TV Academy's Performers Peer Group Celebration event in Beverly Hills, Janney said:
Her private life she keeps pretty much to herself. She comes to work and gets the job done. She's great. She's got a big smile on her face and she's getting through it.
If that doesn't make you want to buy Faris a drink and give her a big hug (or offer to babysit so she can go out with her IRL friends, at least), who knows what will. Of course she's got a smile on her face.
Janney was hounded all night by entertainment media trying to get the scoop on Faris' mood during the split. Janney told Us Weekly, "Everyone [on the Mom set] loves and supports her, and we're just surrounding her with love. She's getting her work done. She's great."
Anyone who's been through a divorce, or even just an awful longterm breakup, knows exactly how hard that is. And Faris also has her son Jack to take care of and, of course, all of us well-meaning fans trying to gauge how she's doing. Talk about major stress, huh? But it sounds like she has a great support system between her CBS family and all of her friends, like her podcast co-host Sim Sarna and her guests.
The couple announced their divorce in a joint statement earlier this month, via their social media accounts. They said, "we tried hard and we're really disappointed. ... We still love each other and will always cherish our time together." In their statement, they also asked for their privacy and highlighted the fact that 5-year-old Jack is the most important thing to them right now as they work out what their new family looks like.
Hopefully, Faris will take the time to not be a total trooper if she needs it going forward (a good old fashioned cry and PJ-time is always recommended). But it's good to know that she has her people and her work to help through this crazy, sad time.