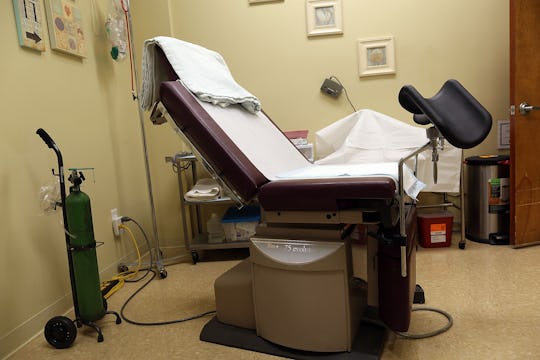 Joe Raedle/Getty Images News/Getty Images
Here's Why You Cannot Be Progressive & Anti-Abortion
It didn't take too long after the Senate's failure to repeal the Affordable Care Act for President Trump to threaten the political futures of the three Republicans who broke ranks to vote against the "skinny repeal" bill. Indeed, 2018 midterm elections have both parties rattled as Trump's administration has accomplished virtually little in its first six months on the job. That's what makes a statement by New Mexico Rep. Ben Ray Luján, the chairman for the Democratic Congressional Campaign Committee, so shocking: The DCCC won't withhold funding from anti-choice Democratic candidates going forward. While winning as many seats as possible in 2018 is essential for Democrats, you can't be progressive and anti-choice — and here's why.
Every human being deserves bodily autonomy and freedom over their own reproductive rights: Anti-choice policies strip away these basic human rights. Anti-choice candidates represent values — and real-world consequences — at odds with the progressive movement.
Ultimately, reproductive rights are fundamentally about gender equity. The Supreme Court affirmed this belief in the landmark 1992 case of Planned Parenthood v. Casey, noting that "The ability of women to participate equally in the economic and social life of the Nation has been facilitated by their ability to control their reproductive lives." In brief: Women with access to safe, legal abortions are happier, healthier, and empowered. On the flip side, anti-choice legislation disproportionately hurts poor women and women of color, as reported by the Guttmacher Institute. When women can't safely and legally access abortions, it effects their earning potential, their educational opportunities, and their ability to fully thrive as human beings — and there's ample evidence to support this.
Luján told The Hill, "There is not a litmus test for Democratic candidates." Luján's justification? He doesn't want the party to "alienate liberals." And yet, this decision by the DCCC chairman could be its most alienating decision yet, as it's in direct conflict with one of the Democratic Party planks to "ensure the health and safety of all Americans," including "securing reproductive health, rights, and justice." Luján's statement on allowing anti-choice Democrats to receive DCCC campaign funding may as well kick a fundamental party plank straight to the curb.
"It's not often that I feel accepted by my party," wrote Patrick Day, a small business owner in Washington, for Vox. "In fact, the best way I've found to live as a pro-life Democrat is just to avoid the topic." Day wrote about what life is like as a progressive with anti-choice values, spending a great deal of words devoted to justifying a decidedly anti-progressive stance. Progressivism is, by its very definition, about moving forward — and yet there is nothing forward-thinking or moving about taking away a woman's right to her own reproductive freedom — full stop.
Roe v. Wade may be the legal guidepost on abortion, but in the 44 years since the Supreme Court gave women the right to reproductive choice, it's been whittled down to only the barest semblance of "choice" in some states. Take for example Mississippi, which has only one abortion clinic or worse, Kentucky, which could be the first state with zero abortion clinics. That the DCCC suddenly thinks it needs to widen the field to fund anti-choice Democratic candidates is completely counter to the party identity.
In 2011, nearly half of all pregnancies in the United States were unintended, according to a study in the New England Journal of Medicine. While the unintended pregnancy rate has been on the decline, the study noted that about 40 percent of unintended pregnancies ended in abortion that year. There's a reason reproductive choice is a Democratic Party plank: it affects more than 112 million women in the United States, if you're conservatively counting women aged 18 to 44 years.
It's far more liberal to be a pro-choice Republican than it is an anti-choice progressive. Again, it all goes back to a fundamental understanding of what it means to be a progressive in America in 2017 — and anti-choice values or worse, electing anti-choice "progressives" into office will only set the party back. Look, I'm just as tired of the divisiveness in American politics as the next person, but welcoming anti-choice candidates into the progressive fold by way of campaign dollars is not the way to sow political unity.