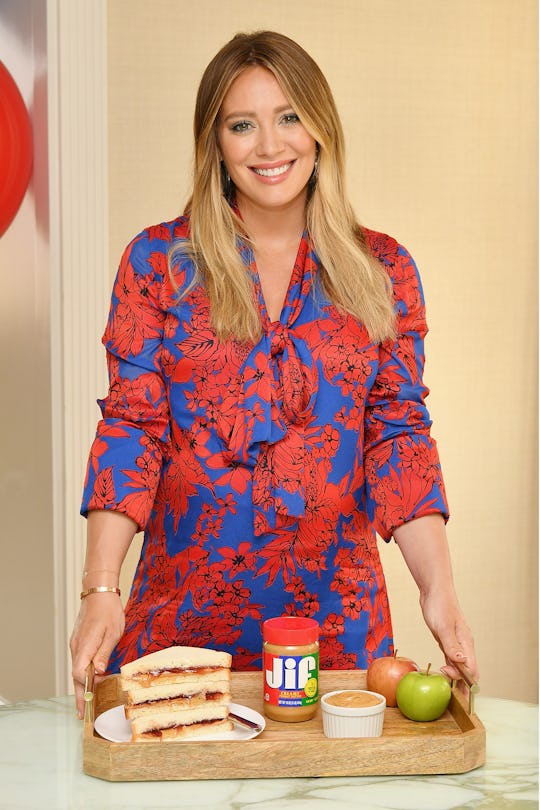 Dia Dipasupil/Getty Images Entertainment/Getty Images
Get Ready To Aww At These *Adorable* Photos Of Hilary Duff's Newborn Daughter Banks
She's here! Hilary Duff weathered a second pregnancy that seemed long and tough in patches, and now she's at the good part: her baby girl has finally arrived! After announcing the birth of her second child on Instagram on Monday night, Hilary Duff shared some close-up photos of her newborn daughter and, yup, they're adorable.
Leading up to her daughter's birth, Duff and her fans had been anxiously waiting for Banks to make her debut. Earlier this month, for instance, Duff shared that she hit a cafe famous for its "maternity salad," which legend says sends local women into labor due to the vinegar in the dressing and herbs added to the lettuce, according to E! News.
It didn't seem to immediately work, but, Duff did finally welcome little miss Banks Violet Bair on Thursday, Oct. 25, as she shared on Instagram. "Banks Violet Bair❤️ this little bit has fully stolen our hearts!" she captioned a photo with her baby girl nestled in her arms. "She joined our world at home on Thursday afternoon and is absolute magic ✨."
And just moments later, Duff shared even more adorable baby pics of Banks on her Instagram Story on Monday. In one photo, baby Banks is seen looking at the camera, all swaddled up on a dark-grey and white blanket.
In another, the newborn looks so chill and content in a purple onesie and a pink strawberry-patterned blanket with a purple pacifier.
Also on Monday night, Duff's boyfriend, Matthew Koma, took to his own Instagram Story to share an adorable black-and-white photo of his sleeping daughter with her tiny hands resting against her face.
Hopefully Duff — who is already mom to her 6-year-old son, Luca — can rest a bit easier now that her daughter is finally here. She shared previously on Instagram that she found pregnancy "hard as hell." As she wrote back in July:
The boobs are big the belly is big the body is big. Man.. pregnancy is hard... Giving love to all mamas who make it look effortless....Lovely to have a little life inside and to day dream of all the new adventures to come buuuut almost impossible to get my own shoes on.
Toward the end of her pregnancy with Banks, Duff seemed to be getting even more restless waiting for her to arrive. For instance, earlier this month, according to People, Duff told her daughter in an Instagram post of her bump that her "hotel stay" was up.
Duff and 31-year-old Koma — who have been together since early 2017, according to The Cut — had kept fans updated on her pregnancy since announcing on June 8 that they were expecting a "little princess," starting with an adorable sex reveal video over the summer.
"I can't think of any other way to find out what was cooking in my belly than this," Duff wrote at the time. "The anticipation was brutal but the pay off was huge! I basically jumped 3 feet off the ground lol 💖 #hurryuplittlegirlwewanttomeetyou."
It's so nice to see Duff's pregnancy come full circle and getting to see these adorable glimpses of baby Banks was totally percent worth the wait.