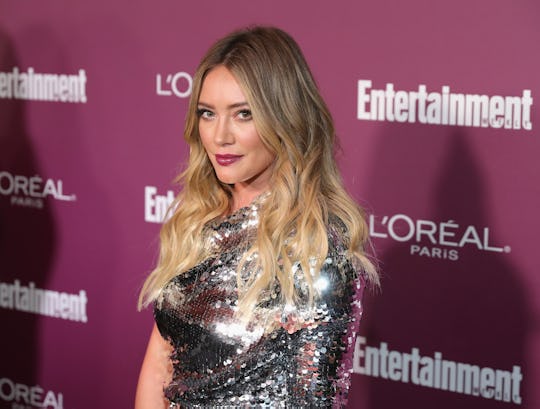 Neilson Barnard/Getty Images Entertainment/Getty Images
Hilary Duff Reveals How Her 6-Year-Old Son Luca Is Feeling About Becoming A Big Brother
Hilary Duff is massively, superlatively excited for the arrival of her second child, as anyone who follows her on Instagram knows. But what about the big-brother-to-be, the star's school-age son? As it turns out, Duff's son Luca is torn about becoming a big brother, but she's not too worried about it, as she recently told TODAY.
"You know what, everything is good," she exclaimed in the interview with TODAY, when asked how "crazy" her household has been lately, between the start of the school season and the upcoming new addition. Duff then joked that 6-year-old Luca is "on the fence" right now about becoming a big brother very soon. But, like every now-experienced parent, it sounds like the star is chilling out and taking the long view about her son's expanding role in the family.
Duff, star of TV Land's Younger, told TODAY that she is certain that "everything will be fine" once the baby — for whom Duff did an adorable sex reveal with boyfriend Matthew Koma — arrives. "In this late stage, you are tired of running around and stuff, but we are ready," she added in the same interview with TODAY. "I'm so excited."
And no wonder: Duff has previously posted about how happy she is as mom to Luca, Instagramming their trips to Disneyland and the beach, but has also admitted that having a little girl has always been a dream.
Speaking to Ryan Seacrest earlier this year, as reported by People, Duff noted that she "was so nervous beforehand [of the reveal]." She went on to explain, "I thought for sure I was going to have a boy ... It was funny that I cared so much..."
She added, according to People, "My sister has girls and I feel like I'm really girly. But for the past six years I've bought monsters and trucks and planes and Luca's into all the boy stuff, so everything's blue and green and I was just ready for pink and purple stuff."
Duff and her musician-boyfriend Koma have been open about their baby excitement. Koma posted his own adorable appreciation of his main squeeze and Duff has been active on her social media, with a recent selfie showing the actress holding up her gray tank top to show her growing belly, with the words, "Babbbby! Hurry it on up damnit," printed below.
She also posted a funny video on Instagram, as reported by People, that shows Koma going to many stores to find her carving: two boxes of Good & Plenty candy. Aww! These two couldn't be cuter, and clearly, Duff's co-stars feel the love, too. "We're so excited for her, she's so happy," enthused Duff's BFF on Younger, Sutton Foster, to Entertainment Tonight.
Girls are clearly in the air in the Duff family, with the actress' sister, Haylie Duff, having given birth to her second daughter, Lulu Gray, in June, as People reported.
And, if you're still worried about Luca, based on this newest report, don't be: Duff told James Corden on The Late Late Show in June that her little guy had already picked out a name, at least at that point. "He told his friend at school the other day that he's having a sister that's part red-butt monkey," Duff joked to the host, as reported by People. "So we'll see! It'll be a first..." Duff went on to tell Corden that "Luca thinks 'Cofant Croissant' is like, the coolest name," adding that her first-born has become pretty insistent on the choice.
It's safe to say that it will all work out for big-brother-to-be Luca. After all, speaking from my own experience, new babies generally smile the most at other kids in the room... and that's usually siblings. And a new study from the University of California also seems to confirm that babies likely smile to make their parents smile, so maybe babies see how happy it makes the adults when they are interacting with a bigger sibling and take the happiness cue from there. Who knows!
With all this said, Luca and Duff's baby girl will undoubtedly be one dynamic duo very, very soon.