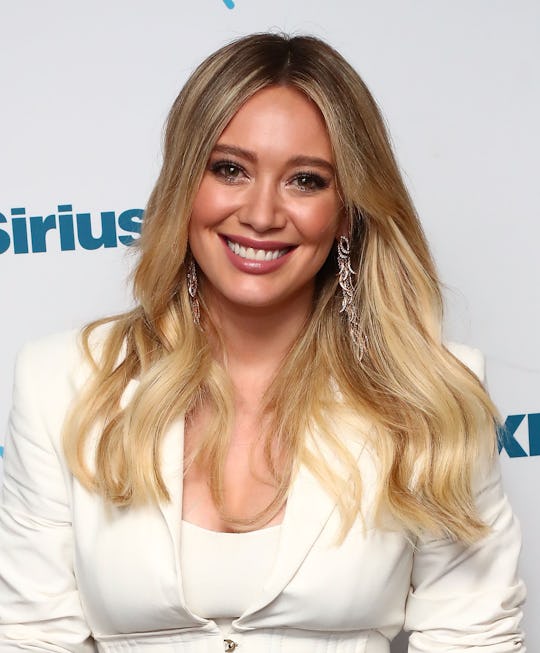 Astrid Stawiarz/Getty Images Entertainment/Getty Images
Hilary Duff Has A Sweet (& Totally Relatable) Message For Her Baby Girl In This New Bump Photo
Hilary Duff is a lot of things. She's a great actress and singer, a fab mom to her 6-year-old son, Luca, and she has an outspoken social media presence. But patient? Not so much... at least with her baby-to-be. The star, who is busily awaiting her first daughter's arrival, has been posting about her excitement over the pending bundle of joy, her first child with boyfriend Matthew Koma. And on Thursday, pregnant Duff penned a message to her future daughter and it's both so cute and so relatable.
A new selfie hit her Instagram Story on Thursday afternoon, showing the actress holding up her gray tank top to show her growing belly, with the words, "Babbbby! Hurry it on up damnit," printed below.
Duff, who has always been somewhat more open with the media about her life lately, seems to be in the best space ever right now. From having shared on social media about her refusal to beat herself up anymore over body image to being in a stable relationship and anticipating a new life, Duff's posts show a person who's grateful for what life has brought her and is excited for what's to come. And her palpable excitement at being able, in a mere matter of months, to meet her new little leading lady is so adorable, and very understandable.
From the moment Duff first revealed her pregnancy, it's been a wild ride of excitement for the actress, including a sex reveal party featuring exploding pink fairy dust. Duff has regularly posted about her loving relationship with her son, so don't go taking it the wrong way that she's so psyched to have a girl; it's probably has something to do with her own close relationship to her sister, actress Haylie Duff.
"My sister has girls and I feel like I'm really girly," she said in a recent interview, according to People. "But for the past six years I've bought monsters and trucks and planes and Luca's into all the boy stuff, so everything's blue and green and I was just ready for pink and purple stuff."
Duff also seems to be having an absolute ball in her relationship; her posts always praise dad-to-be Koma, who she recently called her "dealer," after asking him to hit six candy stores to fulfill pregnancy cravings (including Good & Plenty candies), as People reported.
It's clear that Duff is so excited and grateful about her baby-to-be, but being pregnant can also be physically demanding, and she knows this. (It can also make you want to get the show on the road, and get the birth over with, which could be part of her enthusiasm for meeting her little gal). "The boobs are big the belly is big the body is big. Man.. pregnancy is hard," she wrote on Instagram in a recent post. "Giving love to all mamas who make it look effortless… this journey is hard as hell and also incredibly special."
With the baby's arrival in the coming months for Duff and her family, I wish them all the best. And fans need not to worry about not getting their Hilary Duff fix: The new season of Younger is streaming right now. Nothing to do but follow Duff on Insta and watch the show until the big day, right?