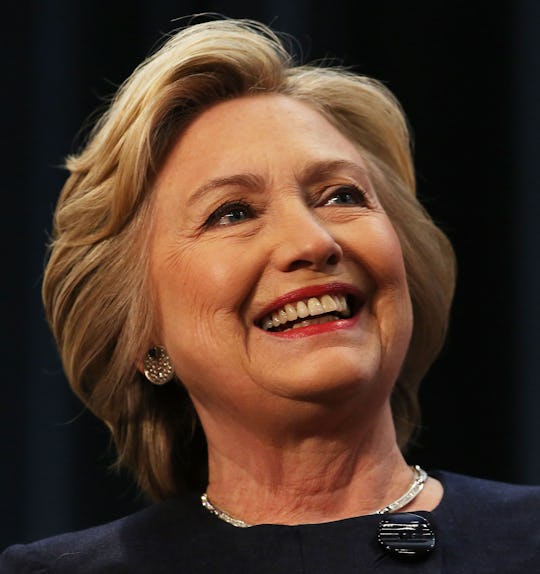 Spencer Platt/Getty Images News/Getty Images
Hillary Clinton Says Her Granddaughter Inspires Her Campaign In A Beautiful Way
Former Secretary of State Hillary Clinton is a busy women these days as she campaigns to be the next Democratic presidential nominee, but she said recently that she always makes time to spend time with family. Aside from scheduling campaign visits around being able to hang out with Charlotte, Hillary Clinton says her granddaughter inspires her campaign on all levels. In an exclusive interview with Us Weekly this week, Clinton said that having a granddaughter has made her think differently about America's future. "Having this wonderful little person in your life makes you think about the future in a whole new way, she said of her daughter Chelsea's first born.
She added in the same interview that she loves having Chelsea, her husband Marc Mezvinsky, and Charlotte on the campaign trail with her. But when they can't all be gathered in the same hotel room or airplane, she manages to keep tabs on baby Charlotte, like most modern grandma's, via FaceTime. "When we can't be together, I'm grateful for technology — we share photos and videos," she said. She added that 18-month-old Charlotte is getting familiar with her and her husband, former President Clinton. "These days, she calls me 'Grandma' and Bill 'Pop Pop.' We just can't get enough of her," she said.
Both the candidate and the former president have never been shy about gushing over their granddaughter. Earlier in the campaign cycle, former President Clinton joked that he expected the "magical charm" of Charlotte to be the difference in the election. Although baby Charlotte can't make speeches or stump for her grandma, she does provide some very necessary respite from the hectic campaigning process. Before the Iowa caucuses, the Democratic frontrunner said she took Charlotte to the zoo and hung out with her at the hotel. "We just spent a couple of hours together this morning and it was just glorious," she said at the time, according to People magazine.
It's about to get even more glorious for the Clinton's as Chelsea and Marc announced this past December that they are expecting another baby, just around the time of the Democratic convention in July. At the time, Hillary tweeted that she and Bill were over the moon about the news. "We're so excited to meet our second grandchild, " she wrote. Chelsea's pregnancy hasn't stopped her from hitting the road to drum up support for her mom.
It sounds like the former Secretary of State has a lot more to look forward to this summer than possibly clinching the nomination in Philadelphia this summer. And double the inspiration to make families a focal point of her policy platforms. Being around new babies can do that to people.