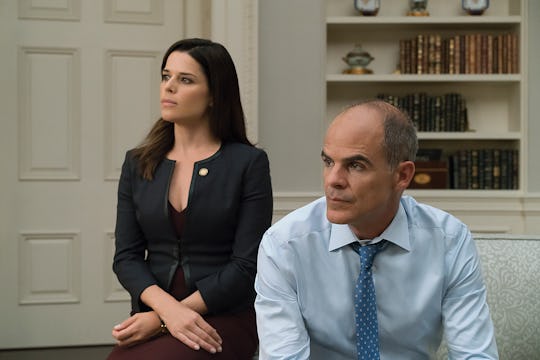 David Giesbrecht/Netflix
'House Of Cards' Michael Kelly Would Pick Frank Underwood Over Trump
When viewers were first introduced to Frank Underwood on House of Cards, it felt almost unbelievable that the United States could ever find itself being run by such a corrupt and power-hungry man. That's a big part of what drew us all in — the absurdity of it all. In our current political climate, the premise no longer feels so far-fetched, though House of Cards star Michael Kelly — who plays Frank's right hand man Doug Stamper — hopes that won't dissuade fans from tuning into the Netflix original's fifth season. Because while, yes, Frank Underwood's continued rise to power hits close to home in Trump's America, the series will still serve as a nice break from real-world politics.
"We're going to seem somewhat tame compared to what's happening with the current political administration," says Kelly to reporters during a Netflix roundtable. "You can watch House of Cards and have a glass of wine and kick back and be like: 'This is make believe. That's great and I can enjoy this as make believe.'" That being said, Kelly does find it unbelievable that the show he's been on for the past four seasons feels more relevant than ever.
Corrupt politician in the White House? Attempting to control the American people using fear tactics? It all sounds eerily familiar. "The things you're seeing in the current political real world, it's scary because there's real-life consequences," Kelly explains. "Women are going to suffer and be set back again and the environment is going to suffer."
He's referencing Trump's American Health Care Act (AHCA), which was passed by the House of Representatives earlier this month and could allow insurance companies to take advantage of those with pre-existing conditions — something that could impact many women on a large scale. Not to mention Trump's skepticism about climate change and his lack of concern for environmental issues.
Now, of course, someone like Doug Stamper doesn't really care about what's best for the American people. He just wants Frank (and himself) to be in control, so he'd more than likely be in support of Trump's actions. For his part, though, Kelly has no qualms with expressing his feelings about Trump's time in office and even goes so far as to say, "I'd rather Frank Underwood be the President of the United States. I'd rather my [7-year-old] daughter be President of the United States. She at least has compassion and she's kind. I just don't get it."