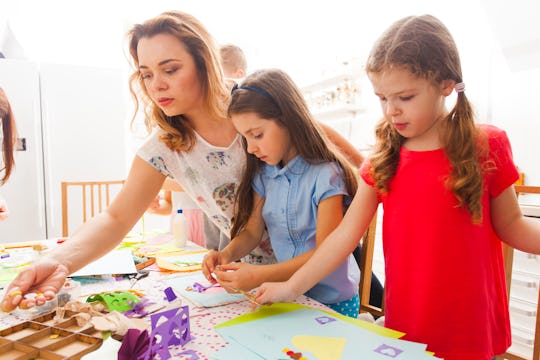 Shutterstock
Crafting Affects Your Brain In Some Really Positive Ways, Experts Say
Those who love to craft, no matter the medium, will often find themselves so entranced by the process that hours will go by and they won't even notice. This ability to zone out is a result of how crafting affects the brain. Whether it's knitting, coloring, pottery, woodworking, or some other activity, crafting has been shown to help people relax, reduce anxiety, improve emotional expression, and more.
Kristin Wilson, MA, a licensed professional counselor, tells Romper that her practice utilizes crafting and art therapy across all patient age groups, from children to grown adults, to help them work through a variety of situations. Similarly, Esther Saggurthi, LCPC, a primary clinician at Maryland House Detox, says she regularly "recommend[s] crafting projects to [her] patients, sometimes on a daily basis" because the physical, emotional, and mental benefits are insurmountable.
A 2013 study published in the British Journal of Occupational Therapists which surveyed more than 3,500 knitters found that the more often they engaged in the activity, the calmer and happier they felt in day-to-day life. This is part of the reason websites like Etsy and Pinterest quickly gained so much popularity, because they inspire people to start their next project, or even make a living by selling what they already love to create.
The overall enjoyment of crafting isn't entirely what drives people to do it, though. The benefits of the hobby go beyond a fun way to spend an afternoon.