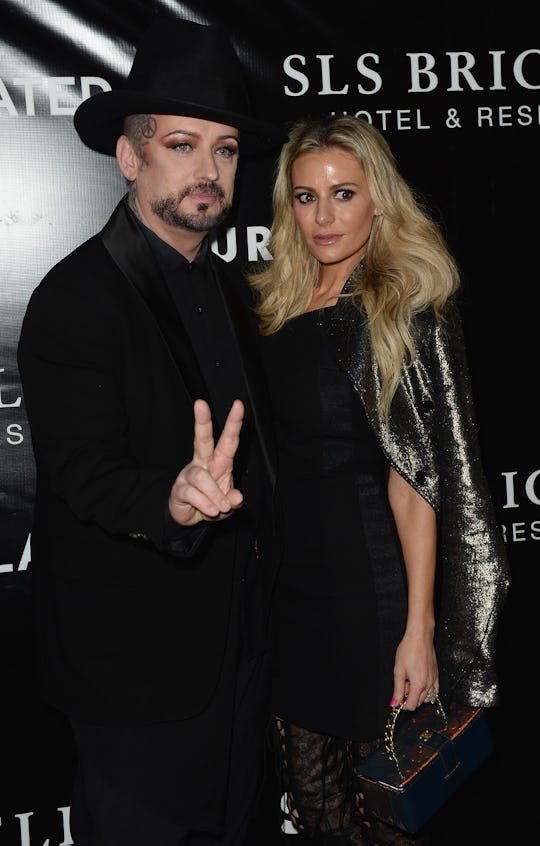 Gustavo Caballero/Getty Images Entertainment/Getty Images
Dorit Kemsley Is An Impressive Entrepreneur
Fans are used to thinking of stars of reality TV shows like the Real Housewives franchise as filthy rich untouchables. But when someone new comes along, it's easy to wonder how they got to where they are in the first place. Take Dorit and her husband, Paul "PK" Kemsley, for example, who run their talent management agency Nixxi Entertainment, but also have a lot of other things going on in their lives. So how did Dorit Kemsley make her money? The Real Housewives of Beverly Hills star might be cashing in checks thanks to her and PK's biggest client, Boy George, but long before Nixxi Entertainment even existed, Dorit was already making a nice little empire for herself.
Dorit went to the Quinnipiac University - School of Business and in 2009 she founded Dorit International, a swimsuit line that was featured in the 2013 Mercedes Benz Fashion Week in Miami. Keep in mind that this was still several years before she would marry PK, allowing her the necessary time to build her brand and work as an independent businesswoman. Today, Dorit International remains a top notch swimsuit line that features purposely interchangeable tops and bottoms — made with the best Italian fabrics of course. And as I mentioned before, the couple also makes a pretty impressive living by running Nixxi Entertainment from their Beverly Hills home.
Although Dorit's money comes mostly from the agency she and PK co-run along with a vast array of his other business dealings with properties and buildings, it's still impressive to see how she got her own start in the fashion industry all by herself. And thanks to her own business savvy skills and her ability to literally do it all as a mom, Dorit continually proves to be a smart businesswoman in her own right.
The Real Housewives of Beverly Hills star came to the series as a good friend of Lisa Vanderpump and has already fit in well among her fellow Housewives, but what sets her apart from some of the other women in the franchise as a whole is that Dorit is an apparent workaholic. And honestly, I mean that in the very best way. She knows what she's doing and she earns her money with PK (with a combined net worth of more than $240 million, I might add) as opposed to using all of her free time to cultivate the sort of drama the series is known for. But of course, it never hurts to add to the dramatics.
Dorit now makes some of her money by being part of The Real Housewives of Beverly Hills cast, yes, but it's clear that hosting and attending charity events isn't all this entrepreneur is about.