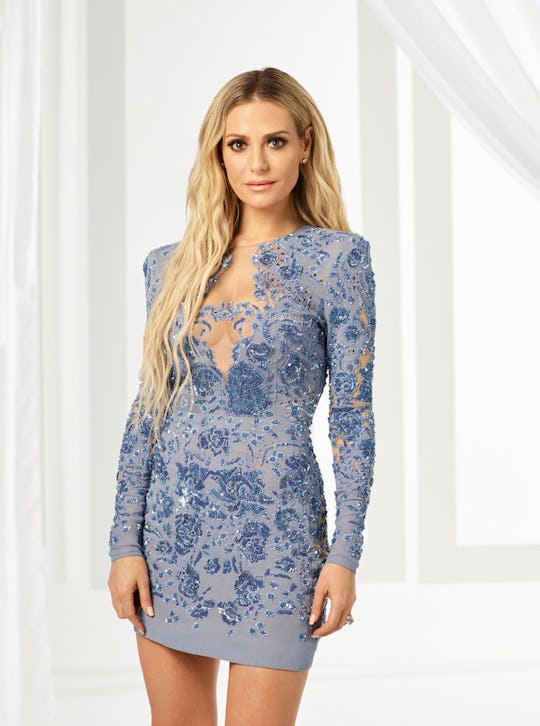 Richie Knapp/Bravo
What Is Dorit Kemsley's Net Worth? 'The Real Housewives Of Beverly Hills' Star Is Thriving
Welcome back, RHOBH fans! When Season 7 of The Real Housewives of Beverly Hills premiered on Bravo Tuesday night, there was a new face among the many familiar high society women we've come to know and love. As someone who is wealthy on her own and more so with her husband by her side, Dorit Kemsley will no doubt be able to hold her own among the other Real Housewives women, but what is Dorit Kemsley's net worth? The Real Housewives of Beverly Hills star is a successful powerhouse on her own, having started a swimsuit business shortly after college, but she also works with her husband, Paul Kemsley, on their talent agency, Nixxi Entertainment. So it's safe to say that the Kemsleys are doing just fine.
According to the-net-worth.com, Dorit and her husband have a combined net worth of $242 million. Although Dorit helps her husband run their talent agency, representing Pelé (the famed Brazilian soccer player) and Boy George, who also lives in their heavily staffed mansion, she has her own work going on as well. As she says on Real Housewives of Beverly Hills, "I'm not exactly lounging in bed eating bonbons." She might have several nannies for her two children, Jagger and Phoenix, as well as a house full of other staff to help the family daily, but that's because this Real Housewife is also a really busy entrepreneur.
In 2009, Dorit founded Dorit International in New York. The swimwear line is made to interchange different tops and bottoms with each other and come in "exclusive Dorit" prints. And in 2013, she was able to showcase her line at the Mercedes Benz Fashion Week in Miami. But in her downtime, she can be found helping Paul run their talent agency or spending time with her two kids whose names are bound to make them the cool kids in school forever. And now, Dorit will likely be brunching, lunching, and backstabbing with the best of them on Real Housewives of Beverly Hills.
Fellow housewife Lisa Vanderpump brought her on to replace Yolanda Hadid, who left the show after reportedly being demoted from one of the main housewives to a friend of the wives and Hadid wasn't having it. So at least Dorit was able to make her entrance onto the Bravo series with a friend, rather than feeling like a little fish in a big pond of intimidating housewives. But something tells me that, given Dorit's net worth and business ventures of her own, she'll end up impressing them all and becoming a core member of the group in no time.