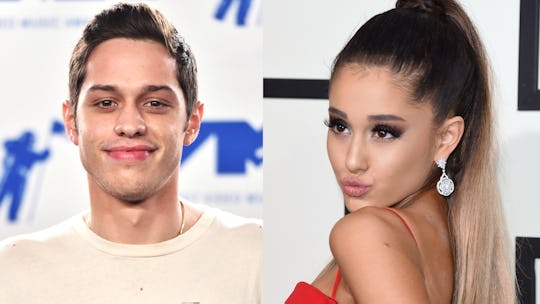 Alberto E. Rodriguez/Getty Images Entertainment/Getty Images, Jason Merritt/Getty Images Entertainment/Getty Images
Here's How Pete Davidson & Ariana Grande's Whirlwind Love Story Got Started
Ah, when a couple gets engaged, isn't it fun to take a trip to yesteryear and remember when they first got together? Well, for Ariana Grande and Pete Davidson, who reportedly started dating last month and got engaged sometime in the last week, one does not have to go too far back in time. That being said, I'd like to go slightly further back in time, and analyze how Pete Davidson and Ariana Grande first met.
The pop star and Saturday Night Live cast member's first meeting, as far as is publicly known, was back on March 12, 2016, when Grande hosted the late night comedy show. During Grande's SNL monologue at the top of the show, Davidson even made a cameo.
However, at the time, both Davidson and Grande were in relationships with other people. Grande was dating Ricky Alvarez, who was her backup dancer, according to E! News. The former couple got together in 2015, and E! News confirmed their breakup in July 2016. It's unclear if Davidson was seeing anyone when he and Grande first met on SNL. Is it just me, or was there totally a spark between Grande and Davidson during their brief interaction? (I kid.)
Shortly after breaking up with Alvarez, according to ELLE, Grande started dating Mac Miller sometime in 2016. Grande announced her breakup with the rapper on May 10, 2018. "This is one of my best friends in the whole world and favorite people on the planet," she wrote on her Instagram Story at the time, confirming their couple's breakup in the sweetest way ever, as Cosmopolitan reported. "I respect and adore him endlessly and am grateful to have him in my life in any form at all times regardless of how our relationship changes or what the universe holds for each of us!"
Just under a week later, on May 16, Davidson confirmed that he and his girlfriend, Cazzie David, had broken up, as E! News reported. Davidson and David, who is also a comedian and the daughter of Larry David, dated for about two years, according to E! News, meaning they likely got together shortly after Grande's SNL appearance.
Whisperings of a budding Grande-Davidson romance first arose on May 12, after an SNL after party, as Vulture reported. That night, they were both photographed holding cloud-shaped iPhone cases, according to Glamour. The cloud symbol quickly became to Grande and Davidson what butterflies are to Kylie Jenner and Travis Scott. Soon after, Grande posted a cloud emoji on Instagram, Davidson got a cloud tattoo on his finger, as Glamour reported, and both suddenly began sharing Instagram photos showing off their new relationship, sometimes commenting on each other's posts with the cloud emoji.
The couple confirmed their relationship (by 21st century standards, anyway) with a Harry Potter-themed Instagram post on May 30 after about two weeks of dating rumors.
Editor's Note: The Instagram post has since been deleted.
Then, on June 11, multiple outlets reported that Grande and Davidson were engaged, after less than a month of publicly dating, as TMZ reported. (Romper's requests for comment from both Grande and Davidson's reps were not immediately returned.) That same day, Grande seemingly confirmed the engagement on Twitter. Not to mention, Grande was spotted wearing what appeared to be an engagement ring on June 2. And with that in mind, obsessive fans (myself included) became even more obsessive, trying to piece together how and why two 24-year-olds might want to get engaged so quickly.
With everything that's known about what seems like a pretty short relationship timeline, Ariana Grande and Pete Davidson look so sickeningly happy right now that I can't imagine they'd care to clear up any questions about how and when they got together for their obsessive fans. And if things do work out, I'm sure their grandchildren will love to watch that 2016 SNL clip of them some day.