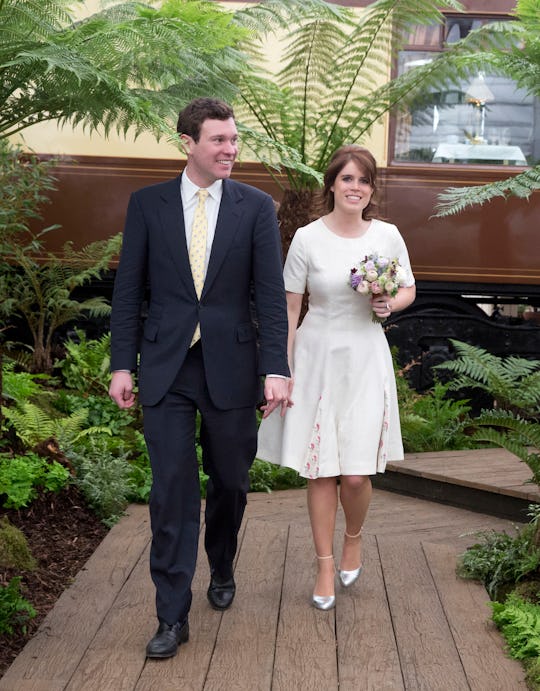 WPA Pool/Getty Images Entertainment/Getty Images
You'll Never Guess Where Princess Eugenie & Jack Brooksbank Met
On Friday, Oct. 12, Princess Eugenie is set to marry Jack Brooksbank after seven years of dating. They have been together for a long time, and are probably very excited and very ready to be married in the second big royal wedding of the year. But how did Princess Eugenie and Jack Brooksbank meet in the first place, anyway? For this royal couple, it was all about who you know and where you go.
Prince Eugenie is ninth in line to the throne of the British monarchy, and the youngest daughter of Prince Andrew (the Duke of York) and Sarah Ferguson, according to Vanity Fair. Her parents divorced when she was only 6, but they reportedly get along very well, and both are expected to be in attendance at her wedding on Friday. In addition, her sister, Princess Beatrice, is her maid of honor.
And it's apparently thanks to these family outings with her sister and parents that Princess Eugenie even met Brooksbank. Princess Eugenie is an avid skier and has been since she was a child, and she's been seen many times with her parents and sister on the slopes, according to The Daily Mirror. It was during a family ski trip to Verbier, a Swiss village, that Princess Eugenie reportedly met Brooksbank.
People reported that Princess Eugenie and Brooksbank were introduced by friends during one of Princess Eugenie's vacations at the Verbier ski resort. Royal family fans may recall that a friend first introduced Prince Harry and Meghan Markle as well. Clearly, the rest of us have friends who are sort of failing on the whole "introduce me to a royal" duty (Just kidding; well, kind of. Meeting a partner through friends is still a popular way for couples to get together).
The Sunday Express reported that Princess Eugenie and Brooksbank "mingled in the same circles" before they officially met. Jack was reportedly a friend of Prince Harry's, for instance.
Princess Eugenie was still at Newcastle University, and just 20 years old when she and her fiancé met, People reported. And for this couple, the attraction was instantaneous. Princess Eugenie told BBC News in January:
This is Jack, we met when I was 20, and Jack was 24. We fell in love and we have the same passions and drive for life.
And Brooksbank even said in the same joint interview that it was love at first sight when they meet while skiing.
Princess Eugenie and Brooksbank's wedding is just a couple days away, but it doesn't sound like the couple is sweating the details all too much. On Monday, Princess Eugenie told British Vogue:
I'm not stressed at all. It's nerve-wracking because you want it to be perfect but then you realise that you're going to be with the person you love forever and nothing else really matters.
Which is definitely the right attitude to go in with when you're planning on marrying someone. And, as mentioned previously, Princes Eugenie and Brooksbank have been together for years. By this point, they may feel more than ready to take that next step, no matter what complications may or may not arise during their wedding with hundreds of people in attendance.
And to think, this love story all started thanks to a family vacation and some well-connected friends.