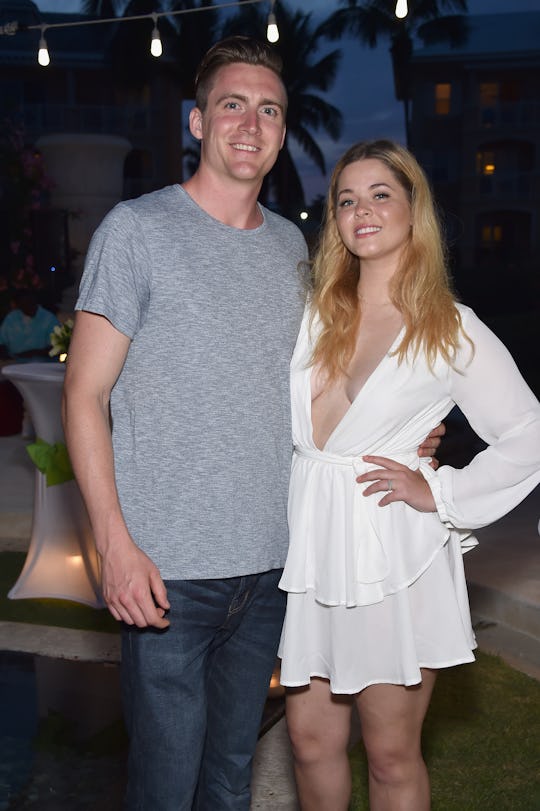 Dimitrios Kambouris/Getty Images Entertainment/Getty Images
Sasha Pieterse & Hudson Sheaffer Meet Are Total #RelationshipGoals
Any Pretty Little Liars superfan has no doubt been privy to Sasha Pieterse and her fiancé Hudson Sheaffer's relationship for years because of their undeniable chemistry and adorable Instagram stories. But even if you're just getting to know the actress via Dancing with the Stars, you know that she has a devoted fiancé often there to cheer her on. Since they've been a pair for so long though, it begs the question: how did Sasha Pieterse and Hudson Sheaffer meet?
Although there is a seven year age gap between the couple, with Pieterse being 21 and Sheaffer 28, they've apparently been together for years. When their engagement was announced back in December 2015, Sheaffer was referred to as Pieterse's longtime boyfriend, which is a fair assessment, but how far back does this clearly in love couple go? While there isn't anything concrete to give away what was more than likely a meet cute for the ages, there are a couple of possible ways Pieterse and Sheaffer met prior to becoming a couple.
Since they're both in the acting business in Hollywood, Pieterse could have met Sheaffer through a workshop or class years ago when she was well into her role as Alison on Pretty Little Liars. I could definitely see an improv class that Sheaffer used to improv his way to a first date with the young actress, but I can dream. But again, rolling with a certain kind of group of friends in Hollywood might have simply found them meeting by chance one night and hitting it off right away. One thing is for sure though and that's the total love and adoration they have for each other.
"He's incredible," Pieterse recently told People of fiancé Sheaffer. "I've known him for so long, and it's so incredible having someone like that supporting you and knowing without a doubt that they are going to be there no matter what happens." The DWTS contestant also added:
It really, truly is reciprocated and what we originated our relationship on was honesty, commitment, being loyal, being supportive, making sure that the communication is open enough and obviously love. I think it's incredible that I have all of that in him, and I'm excited to start our life together.
The couple got engaged roughly two years ago, when Pieterse was just 19, so chances are they met sometime in the few years before that, but the exact details of how Pieterse and Sheaffer came to be weren't as easy to come by as their countless adorable Instagram photos together. Fans have probably noticed Sheaffer, an actor, stunt performer, and photographer, on the sidelines of DWTS to cheer on his fiancée, and once they're married, I don't see that encouragement ending any time soon.
Since Pieterse's time on DWTS Season 25 began, Sheaffer has regularly promoted her on his Instagram account, praising her for all of her hard work and urging fans to continue to vote for her and pro partner Gleb Savchenko. And when it was announced that Pieterse would be co-starring in a Pretty Little Liars spin-off, he posted to Instagram right away to alert fans and show his own excitement.
Before her Oct. 9 performance, Pieterse revealed the details of Sheaffer's proposal and dedicated the song and dance routine to him because at this point, would you expect anything less from this couple? The former Pretty Little Liars star opened up about her Polycystic Ovary Syndrome diagnosis and how one of the side effects of the disease is weight gain. While it has been a struggle for the actress, she credited her fiancé for being a driving force in her life throughout it all and he was quick to praise her right back.
"She's just beautiful, wonderful, a strong person," Sheaffer said during the pre-taped package on DWTS on Oct. 9. "Sasha is the girl of my dreams. The day I proposed to Sasha was the happiest day of my life."
The exact story of Pieterse and Sheaffer's initial meeting isn't clear, but at this point, does it really matter? They've managed to find something incredible with one another and will soon be married as a result of their first meeting. Being so adorably devoted to each other seems to have come pretty naturally for the pair.
Watch Romper's new video series, Romper's Doula Diaries:
Check out the entire Romper's Doula Diaries series and other videos on Facebook and the Bustle app across Apple TV, Roku, and Amazon Fire TV.