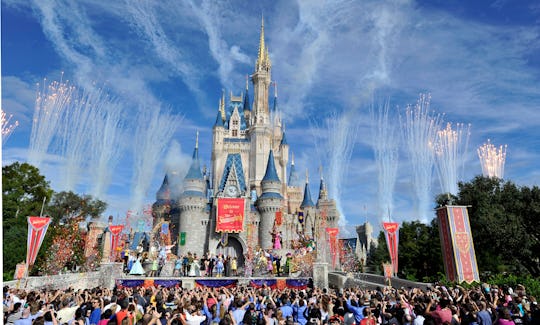 Handout/Getty Images Entertainment/Getty Images
How Disney Entertained Its Guests During Hurricane Irma While The Park Was Closed
As Florida braced for a Category 5 hurricane, many Disney World guests in Orlando were stuck, weathering the storm. Luckily, all guests and employees remained safe as it hit, due in part to excellent preparation by Disney staff, who are rather appropriately called "cast members." Another thing the company did well? It made sure its guests still had a great time. While stranded in Orlando by Hurricane Irma, Disney World took care of its guests and they appeared to have a totally fun stay, despite the closing of parks and attractions. Cast members all banded together to ensure that families were entertained, with both planned and spontaneous events.
Romper has reached out to Disney for comment on the activities during the park's closure and is awaiting a response.
All over Twitter, guest shared their Disney-during-Irma experiences, posting videos of the characters that made all the difference for them. Donald Duck and Pluto helped run the concierge desk. Big Al of the Country Bears hula-hooped at the wilderness lodge, with cast members starting up a line dance. Chip and Dale partied to the "Cha-Cha Slide." Jake (from Jake and the Never Land Pirates) helped build a fort while Doc McStuffins tended to animals scared by the storm. Kids came to Disney World hoping for an immersive, interactive, character adventure — and, thanks to cast members going above beyond, that's just what they got.
But the stellar, last-minute planning didn't stop there. In addition to spontaneous character appearances, Disney planned out a series of events over the few days that the parks were closed. HelloGiggles shared that families were invited to a number of talent shows, arts and crafts events, bingo, story time, and trivia. They also reportedly hosted a Disney screening of eight films, including Wreck It Ralph, Frozen, Finding Nemo, and Star Wars: The Force Awakens.
Add Goofy and Mickey to the equation, and you've got a party on your hands. Disney extended extra accommodations, with guests reporting discounted buffet prices to ensure that bellies stayed full. No doubt that this wasn't the vacation that most families intended to have, but the staff appears to have done their very best to make everyone so comfortable.
See some of the adorableness below:
Even though they seem like experts at keeping the happiest place on Earth running while the attractions remain closed, Disney doesn't shut down very often. This is just the fifth instance of a Disney World closure, and all of the previous ones have been due to hurricanes, too.
Thankfully Disney guests managed to stay safe as Irma plowed up through Florida, but the storm has claimed lives and devastated homes elsewhere. As The New York Times reported, four Floridians and 27 people in the Caribbean have been killed by it, and the tropical storm will continue to work its way up to South Carolina and Georgia Monday night.
Given the scary circumstances Irma has caused, it appears that Disney World knew exactly what to do — and its guest still got to come home with some pretty neat memories.
Check out Romper's new video series, Romper's Doula Diaries: