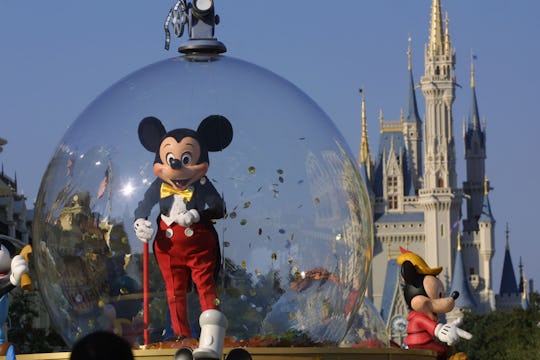 Joe Raedle/Getty Images News/Getty Images
After Closing Down For Irma, Disney World Is Planning To Reopen This Week
Hurricane Irma — the devastating storm that's ravaged through the Caribbean and Florida — continues to creep up the southeastern United States. Over the past few days, warnings and evacuations were broadcasted prior to the storm's landfall. And in preparation for the storm's arrival, the happiest place on Earth closed its gates. So when will Disney World reopen after Hurricane Irma, then?
Disney World theme parks closed early on Saturday, remaining shut down on Sunday and Monday, too. Romper has reached out Disney World for comment regarding these closure and plans to reopen and is awaiting a response.
Closing the park isn't a frequent practice. In fact, since 1971, Disney World has only closed five times, TIME reported. All of these instances were due to hurricanes, according to USA Today. Last year Disney World closed due to Hurricane Matthew, in 2004 it closed for Hurricanes Frances and Jeanne, and in 1999 it shut down for Hurricane Floyd.
But there's good news. According to its website, the park won't be closed for too long. "In efforts to "[keep] safety top of mind," Disney World "hope[s] to resume normal operations on Tuesday, September 12," according to Disney.
The park reported Hurricane Irma damages, specifically fallen trees, debris, and some flooding. Guests reportedly staying at the park during the hurricane shared that they never lost power through out the storm. All in all, it seems that Disney World suffered minimal structural damage and all guests remained safe during what was indeed a very scary time.
Families also tweeted out that, during the storm, they were treated with that quintessential Disney charm and impeccable service. According to HelloGiggles, kids could play with Disney characters during Irma, such as Donald Duck working the concierge desk and Goofy starting a dance party in the lobby.
Arts and crafts events were reportedly scheduled every hour and movie screenings showcased all the favorites, Frozen and Inside Out among them. Meanwhile, older guests could enjoy Star Wars: The Force Awakens and the 90's hit A Goofy Movie. It may be no Splash Mountain, but Disney cast members certainly threw the best indoor party that they could.
Families who opted to cancel or postpone their vacations due to Irma's influence have been given a couple of options, too. As per its hurricane policy, guests who booked their trips through Walt Disney travel company are able to reschedule or cancel their trips without a fee. Pre-paid dining experiences are refundable, too. However, if guests went through a third party travel agent to plan their trips, the refunds aren't guaranteed.
At least four deaths have been recorded in Florida due to Irma and a staggering 27 people have been killed in the Caribbean, according to The New York Times. Though the park was spared, at least 6.5 million Florida residents are reportedly without power. And while Irma has made its way out of Orlando, tropical storm Irma will continue through Georgia and South Carolina Monday night.
It'll be important to keep track of both Irma and Hurricane Jose's whereabouts in the coming days, but it looks like Orlando is in the clear and Disney will fortunately open its gates pretty soon.
Check out Romper's new video series, Romper's Doula Diaries: