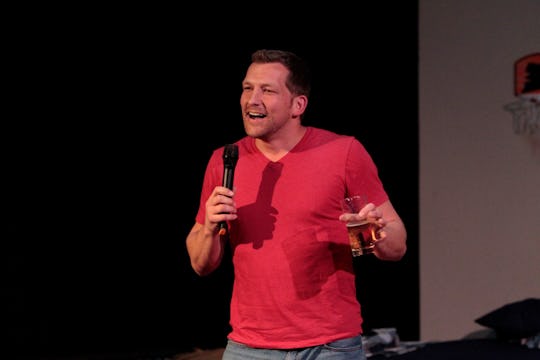 Rick Rowell/ABC
How Do Wells & Nick B. Know Each Other On 'The Bachelorette'? They Were College Buddies
Seeing most of the guys of The Bachelorette get along is pretty adorable, especially when we have Chad giving side-eye glances at them all the time. But while some of them are making new friendships that last beyond the show, others are apparently reconnecting. Wells and Nick B. from The Bachelorette knew each other long before they were competing on national TV for the love of the same woman. Though Wells lives in Nashville as a radio DJ and Nick works in engineering in Florida, the two attended the University of Mississippi together and even played on the same rugby team. That's right — not only are they both Ole Miss alums, but they were actual friends back in college. Which you wouldn't know by watching The Bachelorette.
Come to think of it, have the two of them had any interactions with each other, one on one, that we've seen so far this season? Granted, there haven't been many episodes in Season 12 to date, but you would think it'd come up. Especially when Wells almost died during his firefighter challenge. OK, hardly, but you get it. Apparently, the story is that neither even knew the other was going to be a contestant on The Bachelorette and when they both showed up the first night, it was a total surprise for them both.
After we get over the insane cuteness of these two as college kids, a.k.a., practically babies in this photo, let's be real. It isn't the craziest claim, because who hasn't lost touch with friends from college who live several states away, right? But you have to admit that it's a crazy coincidence that both University of Mississippi alums, who apparently used to be incredibly chummy, would appear on the same season of The Bachelorette. So far, we haven't seen the two interact much, not even to say a "Hey, what are you doing here?" and "No - what are you doing here?" scenario. Judging by Nick B.'s throwback Instagram photo though, there are obviously no hard feelings between the two former Ole Miss rugby players.
They graduated just two years apart, Wells in 2005 and Nick in 2007. Despite Wells and Nick B. knowing each other long before The Bachelorette, the fact is that it was just that — long before. Let's hope that this experience allowed them to reconnect while living in the Bachelor mansion, because those two rugby cuties from years' past are just too much to ignore.