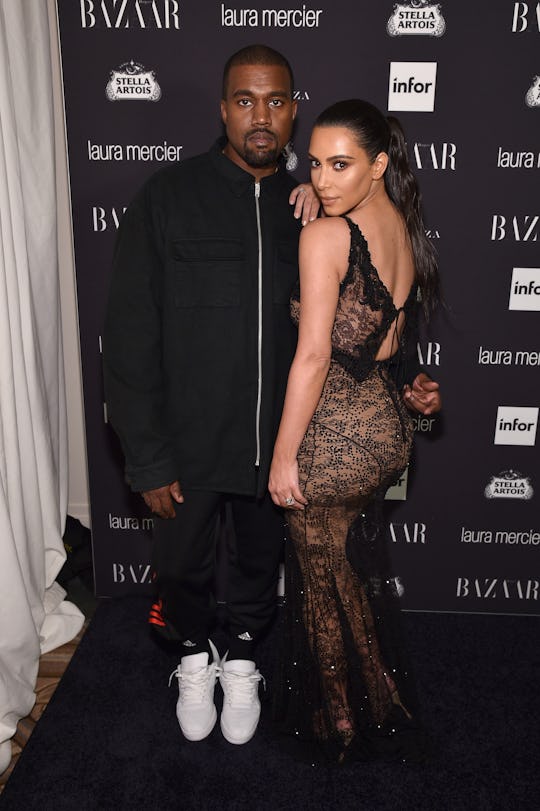 Bryan Bedder/Getty Images Entertainment/Getty Images
Turns Out, Kim & Kanye's New Baby's Name Isn't Even What You Thought It Was
Kim Kardashian West and husband, rapper Kanye West, welcomed their third baby earlier this week via surrogate, sending fans into a guessing game about the baby's name. But today Kim K put it to rest with a simple Twitter graphic displaying her baby girl's moniker: Chicago West. But how do you pronounce "Chi" West's name? Fans of the Kardashian crew made no haste in setting the record straight — it sounds like "shy."
When I first saw Kardashian West's announcement and heard that her daughter's nickname would be "Chi," I immediately went the route of saying the "i" as a long "e" sound, similar to the "i" in Tai Chi or "ee" in cheese. But when I realized it was was pronounced "shy," it made sense. After all, the Windy City is known as "Chi-Town" which is also pronounced "shy."
The couple announced on Tuesday the arrival of baby Chi — although her name was kept under wraps — via Kardashian West's website. "She's here! We're so in love," the reality star wrote. According to People, baby girl Chi was born Monday at 12:47 a.m., weighing 7 pounds, 6 ounces.
"Kanye and I are happy to announce the arrival of our healthy, beautiful baby girl," Kardashian West wrote, who shares son Saint, 2, and daughter North, 4, with West.
On Wednesday Kim K shared an Instagram photo of a Louis Vuitton print and didn't include a caption, sending fans into a tailspin about whether or not the baby would be named for the luxury retail company. Popular guesses for how the couple would pay homage to the designer brand included "Elle V West," "LV West," and "Louis West," reported People. But the new mama quickly put the kibosh on those rumors with a straightforward "NOPE!" tweet, leaving fans hanging yet again.
Of course, if you are a fan of Kanye, then the couple's name choice probably isn't surprising. Not only is Chicago the rapper's hometown, but he pays homage to the city in the song "Homecoming," in which he says: "Every interview I'm representin' you, makin' you proud/Reach for the stars, so if you fall, you land on a cloud/Jump in the crowd, spark your lighters, wave 'em around/If you don't know by now, I'm talkin' 'bout Chi-Town!"
In September, Kardashian West confirmed the pair was having a baby via surrogate during a teaser for season 14 of Keeping Up With the Kardashians. It was the news fans had been seeking after a KUWTK episode in April where Kim explored her options for having a third baby. "After talking to Kanye, I think I always knew that surrogacy was an option, but I didn't think it was that realistic of an option, and now I feel like that's my reality. I feel like surrogacy really is the only other option for me," she said. The revelation came after Kardashian West — who suffered with high-risk placenta accreta while previously pregnant with both of her children — talked about complications she experienced as a result of a procedure that she thought might have allowed her to carry another child. Kardashian West has been forthcoming with fans about the difficulties involved in choosing a surrogate, even sharing her thoughts on her app on Thursday.
"Having a gestational carrier is definitely different, but anyone who says or thinks it's the easy way out is completely wrong. People assume it's better because you don't have to deal with the physical changes, pain or complications with delivery, but for me it was so hard to not carry my own child, especially after I carried North and Saint."
Proving that, no matter your celeb — or non-celeb in most cases — status, the desire to have a child comes down to two simple, but crucial, things: Healthy mom and healthy baby. And that glorious feeling when you see their sweet faces for the first time, no matter how they arrived? Well, there's nothing like it.
Check out Romper's new video series, Romper's Doula Diaries:
Watch full episodes of Romper's Doula Diaries on Facebook Watch.