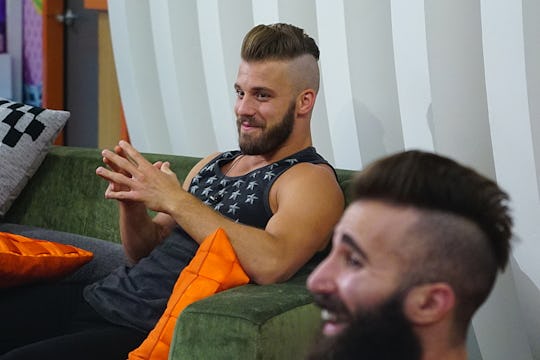 Sonja Flemming/CBS
How Does A Double Eviction Work On 'Big Brother'? It Can Change The Whole Game
During the past week in the Big Brother 18 house, things have shifted considerably. Paulie's true colors have finally been shown and almost the entire house has rallied behind his back, with Natalie, to take him out in the next eviction ceremony. Which, as it turns out will be shortly after the scheduled eviction Thursday night thanks to double eviction. So how does the double eviction work on Big Brother? Basically, we'll get an entire week of Big Brother play and competition in the short span of the rest of the episode following the first eviction of the night.
In the immortal words of Julie Chen, but first, the houseguests will cast their votes to see if either Zakiyah or Michelle is out of the Big Brother house. Right now, the house is favoring Michelle, much to Paulie's dismay, so it looks like Z will be leaving the house first. Then, directly after that, they will begin double eviction on Big Brother. And it is the crazy and exciting whirlwind it sounds like, so you have every right to be afraid. Double eviction on Big Brother can mean that things will go the majority's way, or things will get totally screwed up and flipped upside down.
After the quick live eviction and exiting of the house, the houseguests will do a Head of Household competition and the new HOH will be named immediately. He or she will then have the commercial break to decide who they want to nominate for eviction, that night. After the commercial break, there is a quick Power of Veto competition. That's right, there will be no several hour long competitions for either position of power in this scenario.
Right after the POV competition, the houseguest with the Power of Veto will use it (or not) and then the house will get to voting. This is all in one glorious episode that will either make or break some of the Big Brother houseguest's games right now. We all know that, until recently, Paulie has had a lot of power in the house. Almost too much, you might say. And apparently going after Michelle was a bad move, because in the meantime, he also burned too many bridges with other houseguests and managed to accidentally turn them away from him.
If Paulie somehow manages to lose both the HOH or the POV competitions and someone puts him on the block for double eviction, there is still the possibility of Paulie having the Big Brother round trip ticket once he goes out on the stage. Then again, Paulie could be the one to win HOH again (seriously, is there no limit to this guy and competitions?) and the house will be thrown into a tizzy.