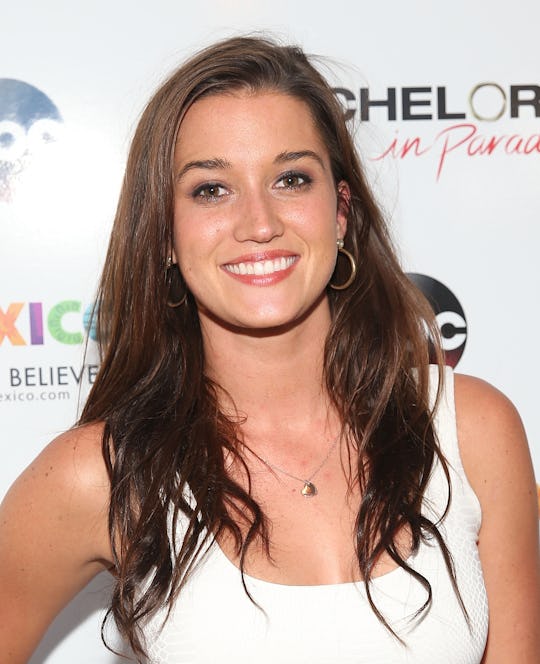 Jesse Grant/Getty Images Entertainment/Getty Images
Jade Had Thoughts About Liz's 'Bach' Elimination
From the moment Liz stepped out of the limo on the Season 21 premiere of The Bachelor, she was doomed. Nick sort of recognized her and when they had a chance to talk for all of five minutes, he revealed that yes, he did remember her from their one-night hookup. But instead of being pleasantly surprised by the reappearance of a brief fling from his past, he put up a wall. So how does Jade feel about Liz's elimination from The Bachelor?
It was at Bachelor Nation alums Jade Roper and Tanner Tolbert's wedding where Nick and Liz met, as Liz was the maid of honor in the wedding. They reportedly had a one night stand fueled by lots of alcohol and even though Nick asked for her number when the evening was over, Liz declined and they went their separate ways.
Flash forward to nine months later (as Liz made it clear of the time frame over and over) and Liz decided that the best way to reconnect with the new Bachelor was to be a surprise contestant on his season of the show. And Jade was totally supportive of her friend, because for Season 11 of The Bachelorette, Nick had been in a similar position. But no one could have really predicted how he would react when the roles were reversed.
Although Jade gave Liz plenty of advice before she left to compete on The Bachelor, the contestant seemed to throw it all out the window once she arrived. "I don't think she followed my advice," Jade revealed to HollywoodLife.com. "I told her to not talk about their past or whatever you want to call it so early. She is really a great person, and I wanted her to have a fair chance and for people to see that, and I wanted her to have at least a chance with Nick." But what does Jade think now that her friend has been eliminated?
Nor surprisingly, the former Bachelor and Bachelor In Paradise star has been super supportive of her best friend of almost 25 years. On Twitter, Jade has taken the time to respond to lots of tweets regarding Liz's elimination and how her short-lived time on The Bachelor went. Which, as everyone knows by now, was awkward and just not great for anyone.
On Season 11 of The Bachelorette, Nick made his second debut on the series by showing up during Week 5 as a surprise contestant. He had previously met the current bachelorette, Kaitlyn, off the air and they kind of hit it off. Then, she agreed to be the next Bachelorette and in order to try and get a chance with her, Nick went on the show. It's not exactly the same story that he and Liz share, but it's definitely similar. Naturally, both she and Jade had expected Nick to see the similarities and be down for another chance with Liz.
In an interview with Us Weekly, Jade also said that while she doesn't blame Nick for having his guard up and being weary of Liz's motives for showing up on The Bachelor, she had also hoped that he would have been more open-minded about it. "He didn't even look at her on the group date," Jade pointed out. "He wouldn't even acknowledge her."
When fellow former Bachelor and Bachelor In Paradise star Ashley I. tweeted a horrified facial expression at Jade with the words "My facial expressions watching Liz "breakup" with Nick," Jade was once again quick to come to her BFF's defense by tweeting, "It may have been super awkward, but her words were the most authentic thing anyone has said on the show, yet."
But ever the supporter of her fellow Bachelor Nation contestants of both past and present, Jade had also tweeted neutral support for Nick, when asked if she and Tanner are still friends with him.
According to Jade, Liz has been working on moving on and Monday night, there will likely be a whole new saga to deal with on The Bachelor. And if nothing else, Liz was able to give both herself and Nick closure, so kudos to the Bachelor couple that never really was.