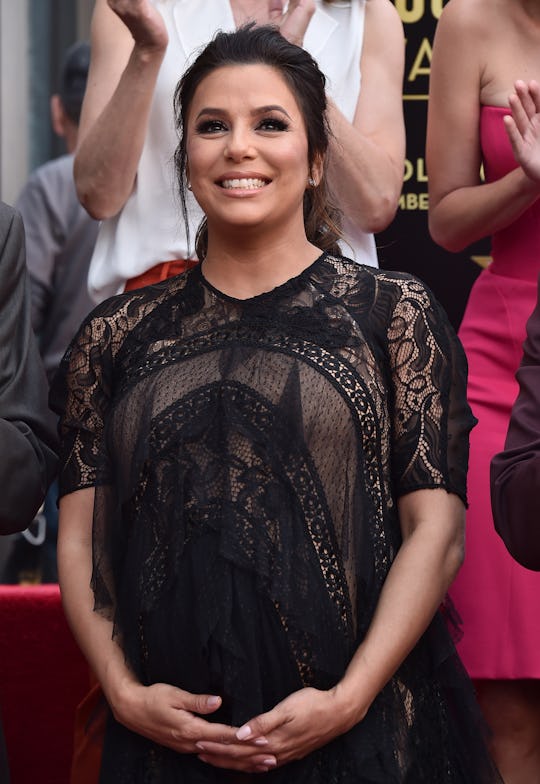 Alberto E. Rodriguez/Getty Images Entertainment/Getty Images
Every Mom Can Relate To How Eva Longoria Is Feeling About Giving Birth To Her First Child
As Eva Longoria's due date nears, it's clear that she is not slowing down. On Monday, the eight-month pregnant actress (and a few celebrity friends) headed to Hollywood for the glamorous unveiling of her star on the Walk of Fame. At the ceremony, according to People, Eva Longoria shared her feelings about giving birth — and expectant mothers, you will totally relate.
"Excited but nervous," the 43-year-old actress told People at the event when asked how she was feeling about delivering her baby. "Nervous, excited, emotional." Those three emotions are totally normal for women to experience as their due date approaches, and it's awesome that Longoria is being honest about her nerves.
Longoria is currently about eight months pregnant with her first child, a boy she's expecting with her husband, José Antonio Bastón. It's clear that Longoria has had all the support she's needed throughout her pregnancy, considering the star-studded crew that came out to support her at her star ceremony. Based on photos shared on social media, celebs including Felicity Huffman, Anna Faris, Ricky Martin, Victoria Beckham, Reese Witherspoon, Kerry Washington, Olivia Munn, and Melissa Fumero all came out to cheer Longoria on. Wowza! Some of them also made speeches in honor of the Walk of Fame's newest addition.
"Thank you to so many beautiful women who showed up to support me and my star on the Walk of Fame," Longoria wrote on both Twitter and Instagram after the ceremony. "What an honor and even more so to share it with y'all!"
Felicity Huffman, who co-starred on Desperate Housewives with Longoria, recited a beautiful speech at the ceremony congratulating her former coworker. According to People, Huffman told the crowd:
Here's why Eva is extraordinary ... Not because she has fancy friends and has sleepovers at Victoria Beckham's house and swings from the chandelier at 3 a.m. Not because she's raised over $40 million for charity. Not because she's an actress, director, producer, a philanthropist… but because she is kind, and because she is hopeful.
In addition to her ride-or-die crew of friends, Longoria's family has been a big support system during her pregnancy as well. "They won't be in the delivery room but they'll be there," she told People at the event about her family. Hopefully knowing that her family will be waiting just outside of the delivery room to greet her baby boy will help keep Longoria's nerves at bay on the big day.
Not to mention, yesterday was not the first time Longoria has opened up about the not-so-ideal aspects of her pregnancy. In an appearance on Jimmy Kimmel Live! last week, Longoria discussed her experience directing the sitcom The Mick before announcing that she was expecting. "I was really tired and really sick and I was like, 'They must think I'm so lazy.' But I was pregnant," she told Kimmel. She also opened up about how physically uncomfortable she has felt while being pregnant, explaining:
Everything's uncomfortable. It's not just your belly — everything gets bigger. I've never seen my thighs so big, and my boobs, they're in the way of everything. It's hard.
Longoria and Baston announced they were expecting back in December, when the actress' rep confirmed to People that she was four months pregnant with a baby boy. A few weeks later, on Jan. 1, Longoria further confirmed the news by sharing a photo of her pajama-clad bump, with about six hands resting on it. "New year, new adventures!" she captioned the shot. "I'm so grateful to my beautiful family for giving this new baby so much love already!"
It's clear that Longoria's family and friends will all be there to help her welcome her son to the world, and hopefully her awesome support system will overshadow her nerves.
Check out Romper's new video series, Bearing The Motherload, where disagreeing parents from different sides of an issue sit down with a mediator and talk about how to support (and not judge) each other's parenting perspectives. New episodes air Mondays on Facebook.